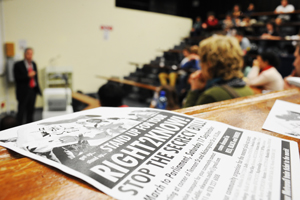 Discussion on the Protection of Information Bill at UCT continued with a lunch-time talk, titled Secrecy and Academia, on 14 September.
Part of the lead-up to last Saturday's Stop the Secrecy Bill march to Parliament, the event was hosted by the Students' Representative Council, Students for Law and Social Justice, the History and Current Affairs Society and the Debating Union. Leading the discussion were the vice-chancellor, Dr Max Price, and Professor David Benatar of the Department of Philosophy.
The talk weighed up the bill's pros (like ensuring state security) and cons (like classifying information as secret that may actually be in the public's best interest to know).
"The problem we have with the bill is that it doesn't offer any public defence clause," said Price. "There are things we should be criticising the government about."
Benatar concurred. "In a proper execution of our right to freedom of information we need information about what our government is doing," he said. "If we don't [know], the judgement that we make in voting is uninformed."
On 15 September Judge Dennis Davis chaired a debate between Dario Milo, associate professor at Wits University; Dennis Dhlomo, special advisor to the Minister of State Security; Fatima Hassan, co-director with Zackie Achmat of the non-profit organisation Ndifuna Ukwazi, which looked at leadership training and social justice issues; and Martin Welz, editor of Noseweek magazine. (View video)
---
This work is licensed under a Creative Commons Attribution-NoDerivatives 4.0 International License.
Please view the republishing articles page for more information.
---