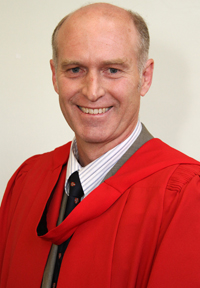 Truly speaking: Prof Eric Wood proposes that managers should invest in truth, among others, to achieve value creation at his inaugural lecture.
Looking at his track record, it would be fair to conclude that Professor Eric Wood is the kind who walks the talk.
After he bought a majority stake in a loss-making business 10 years ago, Wood managed to turn it around in a short time. And his weapon of choice was value creation - the topic of his inaugural lecture, titled The Art of Value Creation, on 7 September.
Wood, who teaches innovation and entrepreneurship at UCT's Graduate School of Business and in the Netherlands, believes that value creation is central for the sustainability of any society. Yet it is a struggle to create value as a nation, and failure to do so is typically shouldered by the poorest of the poor.
Wood's views are backed up by the Global Entrepreneurship Monitoring survey, which shows that, among other findings, productivity per employee in South Africa declined by 6% between 1994 and 2007, that the country has the lowest survival rate of young firms among developing nations, and that there is larges-scale value destruction in both public and private sectors.
According to the government's Special Investigating Unit, a state body that investigate corruption, between 20% to 25% of state procurement expenditure amounting to R30 billion a year, is wasted on overpayments and corruption. In addition, there has been "appalling" anti-competitive behaviour and other abuses of market power by the private sector in many prominent industries.
"Value creation is important to South Africa, and the country offers fertile ground for deepening our understanding of which principles make value creation, and which don't," Wood said.
He added that the fundamental problem is the possibility that one stakeholder may make gains at the expense of another, which is not value creation but value transfer.
He argued that it is the so called "softer fields" of stakeholder theory, business ethics and sustainability that produce the most helpful and inclusive insights into value creation.
"I propose that value creation occurs when all of an organisation's stakeholders, such as customers, end-users, employees, the communities in which the organisation is operating, the environment, the taxman, as well as its owners, are so rewarded that they are positively inclined to dedicate the same amount or more of their applicable resources to it in future, even if for no better real rate of return than previously.
"If, as managers, we have a responsibility to ensure value creation, it means we have to ensure that none of our stakeholders are left out or exploited in the process."
Ultimately, this requires that all stakeholders accept responsibility for their respective parts in delivering the necessary rewards to all other stakeholders.
To achieve that, Wood proposed that stakeholders should strive to create meaning in their practices, be obsessed with excellence, invest in the truth and be willing to subject themselves to scrutiny.
Download the podcast of the lecture or view the video below.
---
This work is licensed under a Creative Commons Attribution-NoDerivatives 4.0 International License.
Please view the republishing articles page for more information.
---