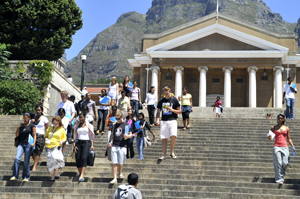 The Quacquarelli Symonds (QS) World University Rankings for 2011/12, released on 5 September 2011, places UCT at 156, up from 161th place last year. The QS system continues to rank UCT as the only university in Africa in the top 200.
Executive director of the Communications and Marketing Department, Gerda Kruger, said: "Being ranked on an international measure such as the QS benefits not only UCT, but South Africa as a whole. A good performance in the rankings sends the message that South Africans can get a world-class education at home. Prospective students and staff the world over use the rankings to decide where to study and advance their academic careers."
She added: "At the same time, we remain mindful of the flaws that are inherent in all ranking systems. Paying too much attention to ranking systems can carry a risk, especially where they are designed with an eye on universities in developed countries. For example, in the South African context, where we have to allocate resources to bridging the gap between inadequate schooling and the high standards of a leading university, a focus on the rankings might divert resources away from spending on improving access because there are no criteria to measure that factor.
"So a university's placement on a particular ranking system often has to be analysed to understand how different factors contributed to such a placement - and why the same university might receive a substantially different score from different ranking systems.
"For example, two other global university ranking systems release their own results on a yearly basis. The Shanghai Jiao Tong Academic Ranking of World Universities (ARWU) released its latest results on 15 August 2011. The ARWU ranking for UCT, in the top 300 range, remains unchanged from 2010. The ARWU ranked Wits in the top 400 range and the University of KwaZulu-Natal in the top 500."
The Times Higher Education (THE) World Rankings will be announced later this year. Last year, UCT ranked in the top 200 on the THE, while Wits and UKZN ranked in the top 500.
---
This work is licensed under a Creative Commons Attribution-NoDerivatives 4.0 International License.
Please view the republishing articles page for more information.
---