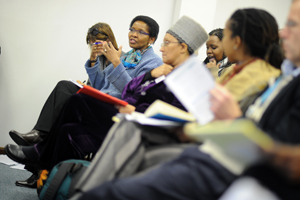 Building bridges: Prof Pumla Gobodo-Madikizela and other delegates discussed reconciliation and forgiveness.
In the aftermath of their turbulent pasts, South Africans and Rwandans had to learn to speak in a new language, one that embraced and upheld reconciliation and forgiveness.
If the Holocaust is the reference point for scholars of human rights abuses and genocide, then the Truth and Reconciliation Commission of South Africa and Rwanda's Gacaca courts - a system of traditional village courts where victims and perpetrators could face each other - are seen as models for reconciliation. The thing is, Northern scholars have struggled to fit these structures, with their specific cultural frames, into their theses.
Hence New Knowledge Systems in Post-Genocide and Post-Conflict Studies: An Afropolitan Dialogue, a symposium hosted on 25 August by Professor Pumla Gobodo-Madikizela of UCT's Department of Psychology. At this high-level think tank, South African, Rwandan and US scholars set out to understand this new approach to reconciliation, as suggested by the symposium theme, Exploring New Avenues of Enquiry.
"What struck me the most when I was in Rwanda was how effectively socially engaged scholars drew on traditional practices to develop strategies for reconciliation dialogue and for dealing with massive trauma; yet so little of this work is visible in the global scholarship on trauma and recovery, peace-building and reconciliation," says Gobodo-Madikizela.
The question, she adds, for her and others is, what insights do these contexts - such as Rwanda's Gacaca courts - have to offer scholars and practitioners interested in deepening understanding of the conditions that make the unique language of apology, forgiveness and reconciliation possible in countries where victims and perpetrators live together as neighbours after mass atrocity?
Language wasn't the only topic. The closing presentation by photographer Eric Miller of his shots from the last days of the 1994 genocide in Rwanda sparked debate about how such images must be presented for analysis and study.
The symposium was supported by the Vice-Chancellor's Afropolitan initiative, driven by deputy vice-chancellor for internationalisation Professor Thandabantu Nhlapo, and the Project for the Enhancement of Research Capacity, co-ordinated by Professor Robert Morrell.
---
This work is licensed under a Creative Commons Attribution-NoDerivatives 4.0 International License.
Please view the republishing articles page for more information.
---