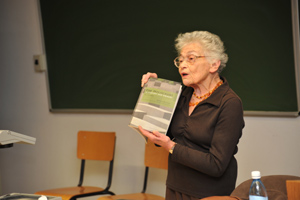 Love's story: Dora Love addressed a packed audience during her recent visit to UCT.
Dora Love's life story is impossible to squeeze into a 40-minute talk, but the brief encounter, hosted by UCT's History and Current Affairs Society on 30 August, was enough to leave many in her audience open-mouthed with astonishment.
A Lithuanian Holocaust survivor now living in the UK, Love was 16 when she was captured by the Nazis in 1939 and managed to live through imprisonment in the Shaulen ghetto, then in the Stutthof concentration camp in Poland.
"What was it that kept your will to survive so strong?" asked an incredulous sociology student.
"My driving force was to survive to tell the story," replied Love. "I felt that if I didn't live through this, nobody would believe what we were going through."
Involved with many reconstruction and resettlement projects, Love established a home for Jewish children in Germany, locating lost children and, if unable to unite them with surviving family, sent them to a new home in Israel.
---
This work is licensed under a Creative Commons Attribution-NoDerivatives 4.0 International License.
Please view the republishing articles page for more information.
---