School learners, prepped by UCT students and others, play United Nations | Aussie visitor speaks on administrative justice | Health science lauds its future student leaders | Ascholar talks on building and nurturing research partnerships in the South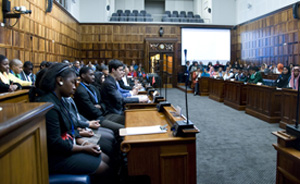 Learners from 20 local schools got to play United Nations on 13 August. This at the 2011 School Model United Nations conference, hosted by the United Nations Association of South Africa at the Parliament building in Cape Town. The learners, representing different countries, had to debate and discuss climate change, à la the UN Framework Convention on Climate Change. Facilitators from UCT, the University of the Western Cape and the Peace Ambassadors Project had prepped the learners for the occasion. Kasselsvlei Senior Secondary (aka South Africa) took top honours, followed by Belhar Secondary (India), while Lyle Breda of Kasselsvlei and Amy Nayman of Belhar were named the best delegates.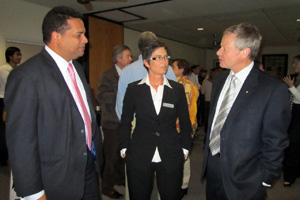 Administrative justice is still something of a moot subject, according to Professor John McMillan of the University of Sydney, who delivered the Faculty of Law's 9th Ben Beinart Lecture in August. It is common, said McMillan, for administrative lawyers today to "sidestep what it means, or to agree that everybody's definition has substance". No matter the definition, however, a cardinal rule is that the individual must be "properly safeguarded in relation to the state", he noted. In picture, McMillan (far right) relaxes with (from left) Selwyn Hockey of sponsors Webber Wentzel, and Prof PJ Schwikkard, dean of law.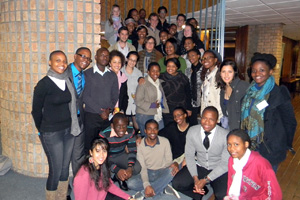 The Future Health Leaders Programme (FHLP), a pilot initiative to groom junior health sciences students for leadership positions, hosted its inaugural awards and presentations evening on 19 August. The event marked the conclusion of the programme, funded by the Faculty of Health Sciences and run by student leaders, and allowed the 30 winners to present some of their research on student leadership at UCT. FHLP co-ordinator, Itumeleng Ntatamala, said the programme came into being when senior student leaders saw a gap in the recruitment of junior students into leadership roles.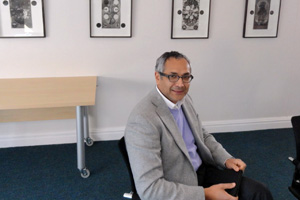 "Africa's the big place that you fly over when you're on your way to London," is how Assoc Prof Shamil Jeppie, senior researcher at the Institute for Humanities in Africa (HUMA), began a recent seminar, hosted as part of the Doing Research in Africa - Africa-Centred Research series of the Programme for the Enhancement of Research Capacity (PERC). In his talk, Jeppie looked at the ways 'the South' is sometimes conceptualised as a way of thinking, and the challenges of connecting with its intellectual resources. He identified two key ingredients to develop sustainable research relationships in Africa - the acquisition of more languages, and persistence.
---
This work is licensed under a Creative Commons Attribution-NoDerivatives 4.0 International License.
Please view the republishing articles page for more information.
---