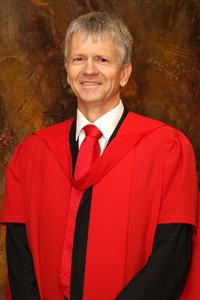 In the red: We've already eaten into - and substantially so - our future carbon budget, explained Prof Harald Winkler in his inaugural lecture.
"We don't know all the answers, but we do know more than enough to take action now. It's clear from a South African point of view that we need to take action in four big areas: electricity and liquid fuels on the supply side and in transport and industry on the use side. It's an energy problem and a problem of energy development. If we can change the quality of how we develop that energy and address both the challenges of poverty and reduced emissions, then we can have an economy and society that can work in the future."
In sum, this was the key message from Professor Harald Winkler of UCT's Energy Research Centre when he delivered his inaugural lecture, titled Climate Change Mitigation in the Context of Development, on 17 August.
"It's a problem that has become too political for the technicians and too technical for the politicians," he said about climate change. But politics aside, the realities of climate change and the urgent action it requires is irrefutable.
Scientists estimate that if climate change is ignored, that temperature will increase by up to 6°C by the turn of the century. But following the Intergovernmental Panel on Climate Change's (IPCC) Fourth Assessment Report in 2007, there is some political agreement to keep temperature increase below 2°C above pre-industrial levels, Winkler said. However, studies show that these actions that countries have pledged to add up closer to the 3.2°C mark.
"The problem we face with the lack of action is not due to a lack of information. We know that to have a 50% chance (depending on how risk averse we are) to keep temperatures below 2°C, we can afford another 1 440 gigatons of CO2 to be emitted over the first half of the 21st centry."
If that sounds like an unimaginable amount, the problem is we already spent 210 gigatons of that future carbon budget in the first seven years. If we keep going at that rate, we will blow the carbon budget - and pay with the resulting impacts.
There are areas for quick action in South Africa, Winkler explained -energy efficiency, managing demand, and legislating for efficiency. A carbon tax can also be impelmented without delay. Changing the fuel mix of our country takes a bit longer; and the most fundamental, long-term change is to our economic structure, from a minerals-energy-intensive focus to a more carbon resilient economy.
"Mitigation is at the heart of our economy," Winkler said. "It is a big contributor to our GDP. We cannot address this problem without Eskom and SASOL, but we can't address it by focusing on them alone."
Smart changes reap great rewards. Talking on energy efficiency, he said that newly electrified houses use about 150 kilowatt hours (kWh) per month. If these increased to the consumption levels of middle-class houses, who use up to 1 000 kWh/month, that might increase emissions by 0.3%. The big savings are in industry, transport and more well-off households, not among the poor.
But it's not just about electricity. "It's also about urban form. Gauteng is very dispersed. The numbers are similar to, say, London, and this has huge implications for the amount we spend on transport and emissions. We should look at safe, affordable public transport for all - and for those who can afford them, hybrid electric vehicles."
In a nutshell, the bottom line is to read - and react to - the signs of the times.
"We need development that shares information, taxes the bad and incentivises the good; that keeps the climate safe for future generations and that accepts that we can be happy with less."
Download the podcast of his lecture.
YouTube Video: UCT's Prof Harald Winkler on climate change
---
This work is licensed under a Creative Commons Attribution-NoDerivatives 4.0 International License.
Please view the republishing articles page for more information.
---