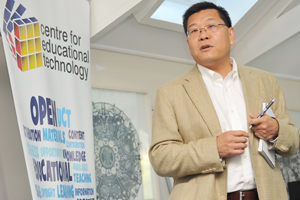 Information activism: Dr Leslie Chan of the University of Toronto wants research to be freely available.
With technology making it increasingly easier for people to connect even as social problems persist, it makes sense that open research is touted as the way to go.
And, as Dr Leslie Chan of the University of Toronto in Canada puts it, there is a link between research, access to research, and addressing global ills such as disease, climate change and poverty.
"The actions we take, even by not making our research available, could have serious consequences for all of us," he said.
Chan, a global authority on open research, was delivering a seminar, Global Perspectives on Open Research: A bird's eye view, organised by the Scholarly Communication in Africa Programme, OpenUCT and UCT's Research Office.
Open research is the use of internet and digital technologies to share research and includes open-access publishing, open-data sharing, open-educational resources, and the use of open-source software.
Chan based his argument on the fact that print journals are in decline, innovations are emerging from areas regarded as "periphery", and on the fact that there is an increase in networking, and a return to the concept of the invisible college, in which scientists collaborate voluntarily, not because they work in the same field but because they have complementary insight, data or skills.
The challenge, though, is to sustain and spread such innovations, he said.
Networks seem to be an answer.
"These [networks] are enabling new kinds of innovations, scholarly collaborations, teaching and learning, governance and so on. We need to take the power of networking seriously."
But Chan warned that all this will be wishful thinking until policy frameworks are put in place at institutional, governmental and international levels.
"Policy must go hand in hand with innovations."
Another challenge is the commercialisation of research.
"What is more troubling is that those who are in control of research are often companies that are not interested in the nature of knowledge, but in the bottom line," said Chan. He added that "we need to encourage university administrators to think of more innovative ways of leveraging the investment on research instead of thinking only of commercialisation".
---
This work is licensed under a Creative Commons Attribution-NoDerivatives 4.0 International License.
Please view the republishing articles page for more information.
---