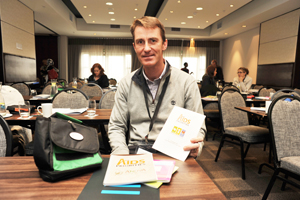 Integration in care: Dr John Joska believes in a one-stop mental health care provision.
There is an "inextricable" link between mental health and HIV, yet there is a limited attention paid to addressing both conditions concurrently, according to Dr John Joska, a senior specialist at UCT's Department of Psychiatry and Mental Health.
Setting the stage for the conference, Mind, Body, HAART, hosted by the Groote Schuur Hospital-HIV Mental Health Group on 11 and 12 August, Joska cited the stigma associated with mental health, the large burden of HIV and skills shortage as reasons for the problem.
The conference was attended by scores of health-care providers, from nurses and doctors to psychologists, counsellors and academics.
Joska pointed out that psychological disorders such as depression, anxiety and alcohol abuse are more prevalent among HIV-infected patients, and these lead to numerous adverse health, economic and personal outcomes.
To turn the situation around, Joska called for what one practitioner described as a "top-to-toe service", an integrated health care approach, ideally offered at the same time in the same place.
"If you have a patient that you need to refer out, it is difficult for him to come back for another visit or to go to a distant place, ending up defaulting in his treatment," Joska reasoned. "In the ideal world, services are co-located and are integrated."
And all providers need to increase their skills, and the work of health-care providers need to be continuously researched.
"There can be no health without mental health," Joska added.
---
This work is licensed under a Creative Commons Attribution-NoDerivatives 4.0 International License.
Please view the republishing articles page for more information.
---