UCT athlete helps SA make impressive debut at world trail challenge in Ireland | Student writes cautionary paper about nutritional supplements | It's hoped that new cricket coach will restore UCT glory | Staffers tee off for annual golf competition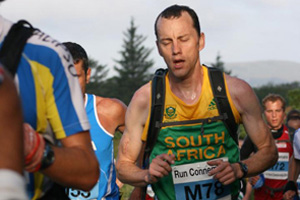 Will Robinson rates the 70km World Ultra Trail Championships, staged in Connemara, Ireland, in July, the hardest course he'd ever done. Robinson, a maths doctoral student at UCT, was part of the first South African team to compete in the event, hosted by the International Association of Ultrarunners. Much like the course, the six South Africans had their ups and downs - Robinson, recovering from a bad cold, lost some skin on the slippery parts of the run, and two had to bail out. Veteran Bruce Arnett fared the best of the South Africans (36th), Su Don-Wauchope was the 14th woman home (77th overall), while Robinson finished 68th in a time of 8:48:08. Geomatics lecturer Dr Ake Fagereng represented Norway.
Nutritional supplements have become all the rage at gyms and sports clubs. But its influx into the country has come so out of the blue that lawmakers and watchdogs have not yet caught up. And for now, these supplements fall in the no-man's land between the legislation that covers food, and those that cover medicine, cautions Gary Gabriels, a doctoral student and principal technical officer in the Division of Clinical Pharmacology, in a new paper, Will the new Consumer Protection Act prevent harm to nutritional supplement users?, published in the South African Medical Journal. Not only do some of these supplements contain banned substances - so take heed, sports folk - but the promises on the labels haven't always been peer-reviewed, according to Gabriels. His bottom line: the Consumer Protection Act should promote greater levels of policy development, regulatory enforcement and consumer education on South Africa's booming supplement industry.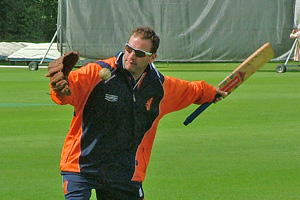 The UCT Cricket Club has named Ryan Maron as player/coach to resuscitate its waning fortunes in the upcoming 2011/2012 cricket season. Maron brings a wealth of cricket experience and knowledge to the club, having played for the Western Province senior provincial team, coached the Danish national team and was the assistant national coach for Netherlands. Maron has also been running the Ryan Maron's Cricket School of Excellence since 1998. UCT's once mighty first team was relegated into the 1B League last season.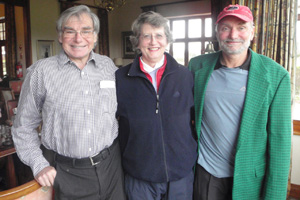 Twenty intrepid golfers weathered a howling south-easterly gale on 24 July for the annual UCT staff golf competition at Royal Cape Golf Course. This is the 20th year of the competition, also known as Ron's Mug, named after the late Ron Allen who initiated the competition and donated a silver mug from the Dar-Es-Salaam Country Club as prize. Prof Jeremy Midgley narrowly won Ron's Mug in a count-off with Emer Prof Kit Vaughan. Kate Brown, aka Mrs Amoore, (again) won Kate's Jug, contested by family or partners of UCT staff. Assoc Prof John Hoffman got the ball closest to the pin on the day, while honours for the longest drive went to Dr Stuart Whittaker. In picture are (from left) 2010 winner Dr Alan Ponting with Brown and Midgley (in the winner's green jacket). Please contact Midgley if you would like to play next May.
---
This work is licensed under a Creative Commons Attribution-NoDerivatives 4.0 International License.
Please view the republishing articles page for more information.
---