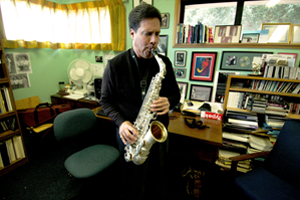 Jazzing up: Prof Mike Rossi, professor of jazz studies at UCT's South African College of Music (SACM), has presented a successful bid to host the International Association of Schools of Jazz in Cape Town in 2014.
Professor Mike Rossi, professor of jazz studies at UCT's South African College of Music (SACM), and students Zeke Le Grange and Darren English attended and performed at the 21st annual meeting of the International Association of Schools of Jazz (IASJ) in Sao Paulo, Brazil, in July. Delegates from 40 institutions from 19 countries attended the event. At the meeting, Rossi performed, lectured and presented a successful bid to host the IASJ meeting in Cape Town in 2014. The Monday Paper spoke to Rossi on what it means to UCT and jazz lovers to host such an event.
Why is it such a big deal for UCT - and Cape Town - to host the IASJ conference?
This is the first time in the IASJ's history, which presents a meeting and a conference each year, that the meeting will be held on the African continent. The academic institutions of the IASJ, which the SACM at UCT has been a member of for the past three years, consists of some of the most advanced and prestigious jazz education programmes in the world. The opportunity to have future exchanges, collaborations, and opportunities for students to study and form friendships with top-level jazz artists, educators and students, is extremely valuable in the long run. Raising the international profile of the jazz studies programme at the SACM, and what UCT has to offer globally, is of great importance, especially in the difficult times we live in.
What value, do you think, will the event add to the local jazz industry?
There are excellent opportunities to develop friendships and networking with IASJ members from over 30 countries as well as great opportunities for the public to attend various jazz concerts, workshops and masterclasses.
How different would you imagine the meeting be compared to the previous ones?
South Africa has much to offer in terms of its unique music and culture. In a way this can be viewed as the 2014 World Cup of Jazz!
The musical collaborations that will result from incorporating South African and African musical styles with music from other countries and cultures will be very exciting. A meeting of this nature speaks to the core of jazz, which today is really world music, as it embraces multiculturalism and democratic values.
What's the appeal of Cape Town to world jazz lovers?
Cape Town has become an international destination for jazz. Jazz has its roots in Africa! African and European musical characteristics are some of the basic ingredients that were mixed together with American influences in New Orleans at the turn of the 20th century that helped create this music, which is now found in nearly every country across the globe. Living in one of the most beautiful places on earth is and always has been an attraction to those coming from Europe and North America. Our jazz audiences and students are very supportive, welcoming, and knowledgeable and they appreciate new and exciting events. It's a chance to connect to the rest of the jazz world, and what is taking place globally in jazz and jazz education.
---
This work is licensed under a Creative Commons Attribution-NoDerivatives 4.0 International License.
Please view the republishing articles page for more information.
---