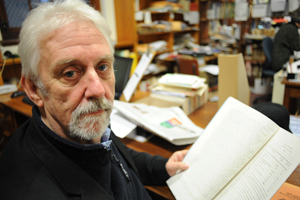 Memories: Dr Colin Darch with the original copy of his paper, the recent reappearance of which has caused a stir in Ethiopia.
Imagine Dr Colin Darch's surprise when an Ethiopian reporter notified him that a paper he had written for (and presented at) a conference in the mid-1970s had recently reappeared; virtually verbatim - but under someone else's name.
In fact, Darch was told, Tesfaye Habisso - former high-ranking Ethiopian official and Ethiopia's ambassador to Uganda and South Africa - had claimed authorship of the paper. And it had appeared in 2009 under Habisso's name - with no reference to Darch - on the website (www.eprdf-sf.org) of the People's Revolutionary Democratic Front-Supporters Forum (EPRDF-SF), which is sponsored by the Tigrayan People's Liberation Front, one leg of the four-partied alliance that makes up the ruling but oft-criticised EPRDF.
Originally, Darch (now a senior information specialist with UCT's African Studies Library) titled his piece The Ethiopian Student Movement in the Struggle Against Imperialism, 1960-1974. Habisso had added only three words to his retitling: The Ethiopian Student Movement and the Struggle Against Feudal Monarchy and Imperialism, 1960-1974.
The rest, according to reporter Abebe Gellaw, was "99.6 percent plagiarism".
Darch lived in Ethiopia from 1971 to 1974, working as a librarian at what was then Haile Selassie I University (now the Addis Ababa University) and moonlighting as a news announcer for an independent radio station. Following Selassie's overthrow by the communist military junta commonly known as the Derg ('committee' or 'council') in 1974, Darch moved to Tanzania and the University of Dar es Salaam.
It was here that he wrote the paper - he still has an original mimeographed copy, typos and all - for a 1976 conference. His first conference paper, it was based largely on what he had witnessed at Haile Selassie I University. According to university records, Habisso left the self-same university in 1969.
Darch dusted off the paper only once more: in 2002, when the Addis Ababa Alumni Association asked if they could run it in one of their publications. (It could have been there, then, that Habisso, as an alumnus, first saw it.)
Darch is more bemused than angered - "astonished, really," he says - by the reported plagiarism. Especially, if Gellaw is right, by Habisso's approach - hardly a word or punctuation mark moved or replaced. (The plagiarism is also slightly ironic, in the light of Darch's academic interests in copyright and intellectual property.)
Since the scandal broke, Habisso has released a statement saying that his version had always been billed as a condensed version of Darch's paper, and that any omission of Darch's name was not of his doing. Darch is not completely convinced, or appeased; he expects the paper to be removed from the website (where it still appears, with the EPRDF-SF claiming copyright), and expects Habisso to issue a proper apology.
---
This work is licensed under a Creative Commons Attribution-NoDerivatives 4.0 International License.
Please view the republishing articles page for more information.
---