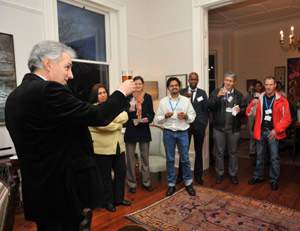 Cheers: VC Dr Max Price toasts new UCT staffers.
After a long day on 23 June, which included hosting US first lady Michelle Obama's visit to UCT, vice-chancellor Dr Max Price ended his duties with a more relaxed function at Glenara: a welcome to new UCT staffers.
Price said that meeting new staff was a recently introduced tradition at the university. "We are trying to create a community that is not just a workplace, but an inclusive social environment where staffers can have a wonderful and long stay."
No sooner had Price ended his welcome speech, than he was peppered with questions by the approximately 30 new staff, all wanting to know all about the high-profile visitor.
I'm usually quite casual around celebrities," said Price, "so I didn't think it was such a big issue - but clearly it was. We've had the US secret service here for the last month, and this morning we had to tow away two cars!"
Price described Obama as "informal and relaxed", even though he had been told by protocol advisors not to call her by her first name.
"When we met she immediately broke all protocol and came up to me and gave me a big hug," he said.
---
This work is licensed under a Creative Commons Attribution-NoDerivatives 4.0 International License.
Please view the republishing articles page for more information.
---