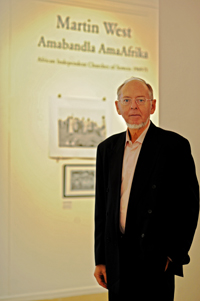 Bishops and prophets: Former deputy vice-chancellor and vice-principal Emer Prof Martin West at the opening in the Centre for African Studies of his exhibition, Amabandla Ama-Afrika: The independent churches of Soweto, 1969-71.
Emeritus Professor Martin West's evocative collection of photographs, taken of the Africa Independent Churches in Soweto between 1969 and 1971 and showing a segment of society hidden to most South Africans, went on exhibition at the Centre for African Studies on 7 June.
West, who will receive an honorary doctorate from UCT on Friday, 10 June, took the black and white pictures while conducting fieldwork for his PhD in social anthropology.
By the end of the 19th century, two streams of Christianity emerged in South Africa and became the focus of West's research: the Ethiopian and Zionist movements. This research culminated in his book, Bishops and Prophets in a Black City, published in the 1970s.
The young social scientist took hundreds of images, capturing baptisms, sacrificial slaughters, prayer meetings, healing services, and vignettes of everyday life in Soweto.
The collection, now part of the UCT Libraries' Special Collections, documents what curator Paul Weinberg describes as a "window on the world that dances between indigenous values and Christianity brought by the colonial and settler communities".
Working around the apartheid laws, which limited white people's access to townships, West relied on cleric and anti-apartheid activist Beyers Naudé for a contact in the Non-European Affairs department who arranged for a pass allowing him to legally enter the rambling township.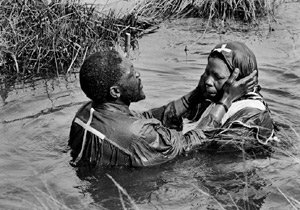 Shuttered from a broader view by apartheid, the pictures revealed the "real people behind the data" West had collected, said guest speaker Emeritus Professor Francis Wilson, who was then a lecturer and mentor to West. At the time of his research, the largest concentration of these churches was based in Soweto, and, as West observed, they reached out to the poor and marginalised.
Keeping to the back roads and adopting a low profile, West gradually established a relationship with these followers. He recalls, "They were very sensitive to being looked down on. When I came to talk to them openly and honestly, they responded. So it was in that way, through talking and sharing, that I gained their trust."
Speaking at the opening Wilson said: "The Soweto Collection on display here for the first time in 40 years - some [photographs]never seen before - was clearly a major milestone in the developing South African synergy between, for want of a better shorthand, academic and the arts; between the work of dusty scholars in their ivory towers and the rich, juicy insights of painters and musicians. The kind of synergy exemplified in another context by Pippa Skotnes, Stephen Watson, John Parkington and Nigel Worden in their amazing collaborative work on the San."
As a preface to the evening, executive director of UCT Libraries, Joan Rapp, said: "For many years Martin had executive responsibility for Libraries. He guided us with a vision which included not only adopting forward looking technologies, but also enriching, strengthening, and making internationally available what is unique in UCT's collections: the rich textual, sound and visual archives which reflect South Africa's cultural, political, and social context, and its heritage. These are held in our special collections, which are the home of the photographs we see tonight. We are honoured that Martin has allowed us to inaugurate a new era of special collections with his photographs."
This exhibition, Rapp said, is the first public event to mark the new "big picture" of the Libraries' archives. That big picture, added Rapp, is not only about increasing the collections that trace the country's heritage.
But [it is] also about re-imagining, reshaping, contextualising, and reworking physical material into exhibitions such as this; it is about providing digital accessibility and digital shaping of these valuable materials worldwide, and about virtual exhibitions; it is about a newly renovated library in which exhibitions of archival materials become part of the world of library users and the broader public."
The exhibition, titled Amabandla Ama-Afrika: The independent churches of Soweto 1969-71, will run until 3 August.
---
This work is licensed under a Creative Commons Attribution-NoDerivatives 4.0 International License.
Please view the republishing articles page for more information.
---