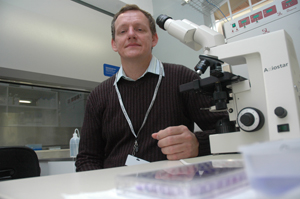 Advocate: Prof Willem Hanekom believes that vaccines will have a huge impact in the fight against TB. (Listen to the podcast of his inaugural lecture)
There are few better placed than Professor Willem Hanekom to present new and unpublished data on the work of the South African Tuberculosis Vaccine Initiative (SATVI).
Described as an "entrepreneurial clinician" and "an outstanding role model for SATVI and UCT", Hanekom, an internationally-recognised immunology expert, gave up a promising career in the US to work in South Africa, which has the second-highest number of TB cases in the world.
Now a co-director at SATVI, he is playing a leading role in developing TB vaccines, the basis for his inaugural lecture, Vaccines to Prevent TB, delivered on 4 May.
For Hanekom, TB deaths can well be compared to the recent earthquakes and tsunami in Japan that killed about 10 000 people.
Every year 1.7 million people around the world die of TB.
"I don't think TB deaths are any less devastating or have any less impact on the economy of a community or households," Hanekom said. "So really, we should do something."
Vaccines, he believes, have the best chance of making an impact on the disease.
To this end, SATVI is in the process of clinical development of new vaccines, and is conducting numerous studies to address critical questions in TB vaccine development.
Hanekom and his team are working on everything from new ways to test potential vaccines and how safe they are, to assessing whether the vaccines will work and how our genetic make-up will determine vaccine success.
The four vaccines SATVI has developed over the years have shown incredible results, he reported. "All vaccines tested so far are very safe."
But will they protect people against Mycobacterium Tuberculosis, the bacterium that causes TB?
One problem, Hanekom said, is that we still do not know what to measure in people's blood (after they have received a vaccine) to tell whether they will be protected against TB. This is a major focus of his research group's effort.
"In studies of vaccinated babies, we were surprised to see that the currently-used tests may not measure the right things to show whether they are protected or not," he said.
The SATVI group has already discovered new markers that are likely to show whether a vaccine will work. This information is also exploited to better understand how people protect themselves against TB; which, in turn, should lead to the development of even better vaccines.
---
This work is licensed under a Creative Commons Attribution-NoDerivatives 4.0 International License.
Please view the republishing articles page for more information.
---