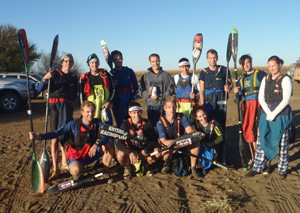 Courageous canoeists: The team from the UCT Canoe Club that took on - and survived - the Orange River Canoe Marathon.
The 2011 Orange River Canoe Marathon (ORCM) - staged over 30 April to 1 May - will remain in the hearts and minds of the 12 intrepid (read foolhardy) UCT canoeists who trekked to the Northern Cape to take part in one of the province's big-name attractions.
The ORCM - largely flat and arduous paddling that tests the endurance, willpower and hangover of even the hardiest soul, according to the students - was run in two legs. The first, from Farm Nova Hopetown to Farm Slypsteen, covered about 35km. The second, from Farm Boland to Farm Nova Hopetown, weighed in with a further 37km or so.
Day 1 featured a fairly tricky S-Bend, plus the Hubbly-Bubbly and Hell's Gate rapids to navigate. In turn, Day 2 - the one the students most looked forward to - covered two of the country's most revered and astutely named rapids, Marcel Se Monster and Gert Se Perd.
(After the drubbing the teams took on the first day, some students had even endeavoured to purchase snorkelling gear, oxygen tanks and spear guns in preparation for their inevitable swim down the rapids, reported the UCT Canoe Club's Bruce Hughes.)
Needless to say the team returned home battered and bruised. But they also had a trophy in hand, thanks to the Birkett twins, Andrew and James, who won the K2 category.
The team also has the satisfaction of being among a select group of people who have taken on the mighty Orange and, if they didn't quite conquer it, they at least had the chance to experience the river in all its glory and occasional fury.
---
This work is licensed under a Creative Commons Attribution-NoDerivatives 4.0 International License.
Please view the republishing articles page for more information.
---