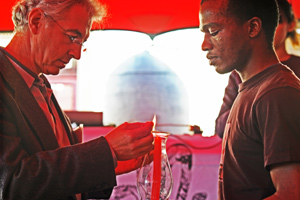 Lighting the way: Dr Max Price and student Luke Nkosi light a candle at UCT's annual Candlelight Memorial Concert.
Stigma remains a concern, said vice-chancellor Dr Max Price at UCT's annual Candlelight Memorial Concert, organised by the HIV/AIDS Institutional Co-ordination Unit (HAICU) on 12 May.
The aim of the event, which featured local band GoodLuck, was to commemorate the lives of colleagues and friends who have died of AIDS, to support those who are living with the virus, and to break down the stigma still attached to the disease.
"Our main job is to address questions of stigmatisation, and I urge you to go out there and talk about it," Price told students.
He made reference to the university's campaigns that aim to address the disease, particularly the discipline-specific HIV/AIDS curriculum course components that have been incorporated into the formal curriculum. Price noted that although infection rates have levelled out among young people, the university - and the country - cannot be complacent in responding to a disease that has infected over 5.7 million South Africans.
The big task, he added, is for individuals to take responsibility, and to always practise safe sex.
Students' Representative Council President, Amanda Ngwenya, said they were encouraged by the number of students who got tested in the recent drive, and encouraged students to create a supportive environment for their peers living with and affected by HIV.
Malibongwe Majombozi of the AIDS Community Educators (ACEs), HAICU's peer educators, urged students to engage in open dialogue about HIV in order to dispel the many myths and misconceptions that strengthen stigma.
---
This work is licensed under a Creative Commons Attribution-NoDerivatives 4.0 International License.
Please view the republishing articles page for more information.
---