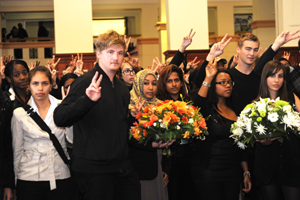 Stand up: SRC president Amanda Ngwenya (second from right) and deputy vice-chancellor Prof Crain Soudien spoke out against police brutality at the SRC protest.
Following the violent death of UCT alumnus Andries Tatane during a protest action in Ficksburg in April, UCT staff and students gathered at Jameson Plaza on 5 May to protest against police brutality.
Students Representative Council (SRC) president Amanda Ngwenya said that although the incident has been well covered by the media, the UCT community needed to recognise what had happened.
"We must, however, be careful not to get caught up in the hysterics and display of outrage," Ngwenya told protestors. "Only those who knew him, his community and family, are truly in mourning."
Video footage of Tatane's death has heightened public awareness of police brutality, noted Ngwenya, but this was not an isolated incident and Tatane is by no means the first to lose his life in this manner.
Also speaking at the event was deputy vice-chancellor Professor Crain Soudien, who said UCT should be especially outraged, because the tragedy touches on questions which are at the heart of the university.
"Our primary function is to prepare all of us to come to uphold and to exemplify the values of a democracy," said Soudien. "Central to this is unconditional respect for others, the unconditional right of people to associate with whom they want, their unconditional right to dignity, and critically, their unconditional right to express themselves freely."
Soudien called for the UCT community to redouble its efforts to promote human rights and to publically reject the idea of reacting violently to those with different views.
---
This work is licensed under a Creative Commons Attribution-NoDerivatives 4.0 International License.
Please view the republishing articles page for more information.
---