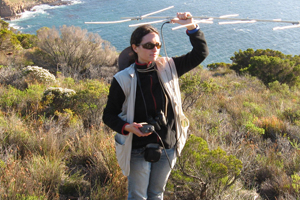 Getting human rights right: Lord Hoffmann (right) in discussion with students Djims Milius and Rebecca Browning.
Human rights were the focus of the Faculty of Law's second Rabinowitz Visitor Lecture, presented by Lord (Leonard) Hoffmann, a retired senior British judge, on 5 May.
Hoffmann explained that most human rights instruments are adopted in the wake of revolutions and the overthrow of governments, and are mainly intended to protect the people against what were perceived to be the injustices of the previous regime. South Africa was no exception, he said.
But the circumstances of the South African revolution were in many ways remarkable, he added. The combination of racialism and legalism which had distinguished the previous regime, followed by its sudden and peaceful abandonment, had no precedent. But the South African Constitution that sprang from this revolution was the result of careful deliberation, he said.
"It is therefore not surprising that the South African Bill of Rights, in its general emphasis and many of its individual provisions, should be different from any such instrument which had gone before."
Faculty supporters Ben and Shirley Rabinowitz established a visitorship programme as part of the faculty's Law 150 celebrations in 2010, an initiative that sought to bring leading lawyers, whether academic or practicing, to participate in the intellectual life of the faculty. While at UCT, Hoffmann taught students in administrative law and law of delict, and also presented a staff seminar on shareholder actions.
---
This work is licensed under a Creative Commons Attribution-NoDerivatives 4.0 International License.
Please view the republishing articles page for more information.
---