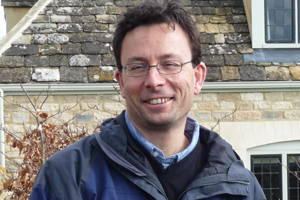 International track record: Prof Mark New, UCT's first Pro Vice-Chancellor and Director of the African Climate and Development Initiative.
Alumnus Professor Mark New has been appointed as Pro Vice-Chancellor and Director of the African Climate and Development Initiative (ACDI). This is a new position created to oversee and facilitate the establishment of the ACDI. He will start his career at UCT on 18 July.
New is the first Pro Vice-Chancellor to be appointed at UCT. The post takes different forms at different universities. At UCT a Pro Vice-Chancellor is responsible for strengthening and raising the profile (both internally and externally) of a particular major strategic area or initiative that crosses faculty and departmental boundaries (in this case climate research) by lending it central institutional support, providing academic leadership, fostering co-operation between and communicating with internal and external stakeholders and by creating synergies between key areas of community interest and the existing research strengths of UCT, as well as by leading fundraising efforts.
He will act on behalf of the Vice-Chancellor's Office to provide enhanced academic leadership around the strategic goal of addressing the climate and development challenges of Africa from an African perspective, and he will take the lead in facilitating and substantially extending climate research at UCT, as well as continuing his own research. New will report to Professor Danie Visser, deputy vice-chancellor for research.
"We took at least a year longer than expected to make this appointment but this is indicative of the emphasis we placed on finding the right person," said vice-chancellor Dr Max Price. "We are satisfied that in the appointment of Professor New, we have found that person."
New graduated from UCT with a BSc Geology in 1986 and completed his honours the following year. He received an MPhil in Environment and Development from Cambridge University in 1992 and a PhD in Geography (climate change and hydrology) from the same institution in 1998.
Over the past 12 years New has been involved in two master's programmes at Oxford University's School of Geography and Environment: as a lecturer on the MSc in Environmental Change and Management, which has a strong climate change science and policy focus, and since 1995 as Academic Director of the MSc in Water Science, Policy and Management. He has successfully supervised a number of doctoral students.
He has an international reputation and track record and has attracted significant external funding for large research programmes.
New's research and consulting expertise in climate change, especially with respect to development in Africa, spans key interlinked areas of climate science: climate monitoring, climate modelling, impacts assessment, especially with regard to water, and adaptation. In addition to cutting-edge research in the UK, New also has experience of climate and development issues through work in sub-Saharan Africa, South Asia, and South America.
Finally, New has a wide range of experience and professional training in communicating with stakeholders who range from lay public, through to media organisations, NGOs, industry and government agency professionals and departments.
In welcoming New to UCT, Price also thanked Professor John Parkington who acted in this position.
"He has done an excellent job in clarifying the appropriate priorities for the position and in getting a number of programmes off the ground."
---
This work is licensed under a Creative Commons Attribution-NoDerivatives 4.0 International License.
Please view the republishing articles page for more information.
---