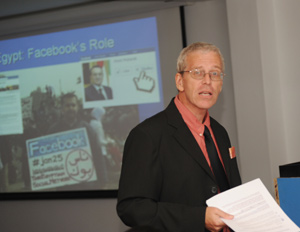 Power of media: Prof Steven Youngblood believes that social media is a valuable tool to democracy movements.
Social media played a pivotal role in the recent Egyptian revolution and will be a key tool in future mobilisation and pro-democracy activities, said Professor Steven Youngblood of Park University in Missouri, US.
Youngblood, who boasts a long track record in international education and peace journalism, was delivering a public lecture, titled The Role of Social Networking in Democratic Movements, on 3 May. It was hosted by the International Academic Programmes Office (IAPO) and the Centre for Film & Media Studies at UCT.
Youngblood argued that Facebook, Twitter, blogs and YouTube had amplified the popular uprising that led to the unseating of Egyptian president Hosni Mubarak. When the Egyptian government blocked the mainstream media from reporting on the protests, social media had filled the gap. And when the state cut off internet and cell phone access, the protestors took to the streets.
"I found that fascinating," said Youngblood.
Facebook was used to spread revolution-related news, its users rising from 4. 2 million when the protests started in January, to 5.3 million in February. The number of tweeters and bloggers also shot up exponentially, and two of the five top videos on YouTube were shot during the uprising.
Social media broke down monopolies and hierarchies, Youngblood said, predicting that the next stops for social media-driven revolution could be Afghanistan (in the distant future), Uganda and Palestine.
"It seems that the seeds of the social media revolution have been planted in those countries."
---
This work is licensed under a Creative Commons Attribution-NoDerivatives 4.0 International License.
Please view the republishing articles page for more information.
---