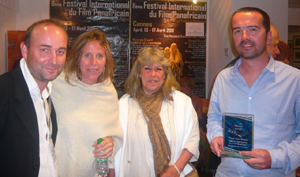 The UCT Unilever-produced documentary, Forerunners, received a prestigious jury award at the recent Cannes International Pan African Film Festival. Photographed here are producer and UCT Unilever managing consultant, Paul Egan (left) and director Simon Wood (right) with Canadian director Nathalie Gouin, and jury president of the Pan African Film Festival, Catherine Rouelle.
Forerunners, a UCT Unilever Institute-produced film that charts the lives of four young black South African professionals, received a special jury award at the recent Cannes International Pan African Film Festival.
Two years in the making, the full-length feature documentary follows the day-to-day lives of four South Africans in an attempt to understand what it means to be black and middle class in South Africa today.
Director of the UCT Unilever Institute of Strategic Marketing, Emeritus Professor John Simpson, says the idea to make the film germinated during the institute's extensive research into South Africa's burgeoning black middle class, conducted over the past decade.
The stories of some of the young black professionals interviewed during research case studies impressed the researchers and institute members alike and Simpson said he believed that their stories needed to reach a wider audience.
"These representatives of a new generation of South Africans essentially represent hope for the future of the country. We are delighted that their stories, and the film's superb production values, also struck a chord with the panel of international judges in Cannes."
Directed by Cape Town based film-maker, Simon Wood, Forerunners was one of only four films to receive a prestigious Dikalo award at the Pan-African Film Festival and the only film to receive a special mention from the panel of judges.
"In South Africa today, centuries of family-focused African culture are colliding with a new international religion, namely consumerism," said Wood. "Initially I felt Forerunners would focus on materialism redefining value systems. Conversely, over the 18 months of production, the influence of spirituality and heritage emerged as a central theme."
The documentary was one of 50 films selected for screening from over 2000 films that deal with stories and issues relating to the African diaspora. It was also the only South African documentary selected for screening at this year's festival and was up against stiff competition from a number of big-budget films from international production houses.
Forerunners will also be screened at other prominent international film festivals, including at South Africa's premier film festivals, the Durban International Film Festival and at the Encounters International Documentary Film Festival.
Producer and UCT Unilever managing consultant, Paul Egan, adds: "The key to the film is documenting change. Perhaps the most encouraging aspect of the whole experience in Cannes was how the film was received by an international audience. People reported that it really opened their eyes, challenged their perceptions, and created a positive impression about South Africa."
---
This work is licensed under a Creative Commons Attribution-NoDerivatives 4.0 International License.
Please view the republishing articles page for more information.
---