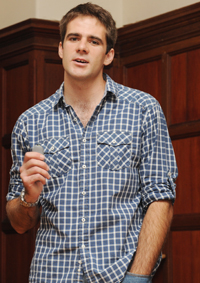 Under the weather: Doctoral student Neil Hart hosted his Potter Fellowship Seminar on climate change.
What irks Neil Hart, a doctoral student in the Department of Oceanography, isn't so much the shortage and shortcomings of weather forecasts and climate research, but rather how this information is passed on to the likes of policy makers and farmers.
So for the Potter Fellowship Seminar that he hosted - a requirement of the David and Elaine Potter Fellowship he received this year - in April, Hart assembled a procession of climatologists, oceanographers and other experts to consider the issue. Specifically, he wanted them to discuss how current research on climate variability in the Western Cape can be best trained on socially relevant questions.
So talks at the seminar, titled Whither the Weather, covered everything from basic science and the flaws of current forecasting, to how the science can be packaged for end users. Speakers explained how the climate in the Western Cape is much more complex than high school textbooks may suggest, how ocean phenomena - specifically the El Niño/La Niña-Southern Oscillation climate pattern - influence weather in the region, what work is going into building robust global climate models, and how information is (and should possibly be) packaged for end users like farmers.
Working in climate dynamics, he very rarely has any contact with end users, Hart admits. The seminar provided him, too, he said, with a chance to hear what kind of data disaster risk managers and those in the agricultural sector, for example, need and can put to use.
---
This work is licensed under a Creative Commons Attribution-NoDerivatives 4.0 International License.
Please view the republishing articles page for more information.
---