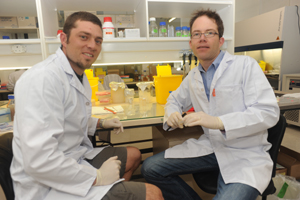 Prevent and cure: Drs Digby Warner (right) and Thomas Scriba of the IIDMM have won plum international awards for their contributions to TB research.
Drs Digby Warner and Thomas Scriba of the Institute of Infectious Disease and Molecular Medicine (IIDMM) have been named Winner and First Runner-up respectively of the prestigious BioVision-Lilly Award in conjunction with the Academy of Sciences for the Developing World (TWAS). The award recognises young researchers from developing countries for outstanding scientific achievements in tuberculosis-related research.
The winners were announced at a special ceremony at the 7th Biovision World Life Sciences Forum, in Lyon, France, hosted by TWAS.
Warner was honoured for his work on mycobacterial metabolism, which promises to have a major impact on understanding the development of drug resistance in Mycobacterium tuberculosis - the bacterium that causes TB. In turn, Scriba was singled out for his research on TB vaccines and the body's immune response to the TB organism.
Different angles, same coin.
"In some ways, we have approached the same problem from different angles, but there are opportunities to work together on this and collaboration is definitely on the cards," said Warner.
Both agree that the award reflects well on the research done at the IIDMM. However, they're quick to add that the heart behind their research eclipses the glimmer of awards.
Finding an African solution to an African problem, that is.
"It's important to recognise that there is really good science being done in developing countries. Local scientists should be consulted in terms of potential interventions for developing world diseases," Warner added.
---
This work is licensed under a Creative Commons Attribution-NoDerivatives 4.0 International License.
Please view the republishing articles page for more information.
---