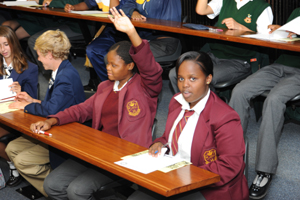 In contest: Amina Khalfan and Abigal Moleka, both Grade 9 learners from Queen's Park High School, were among the over 6 000 learners who participated in this year's UCT Mathematics Competition.
The mother and her daughter looked worried as they stood in front of the Computer Science Building among the throng waiting to register for UCT's annual Mathematics Competition.
The Grade 8 learner wasn't so much bothered that she was about to take part (for the first time) in what is described as the biggest maths gathering in the Western Cape, attracting over 6 000 learners from 130 schools. (She is among top maths learners in her school, after all).
Her concern was how she and her mother would get home to Gugulethu after the competition, which was scheduled to end at 21h00. The school bus would only take them as far as her school in Athlone.
"God will make a plan," said the mother. "I could not disappoint my daughter because she was looking forward to this event."
Their dilemma is testimony to the lengths some learners are willing to go to be part of the vibe, the fun and the challenges to be found in this 35-year-old competition.
"The competition not only helps learners improve their maths skills and attitudes towards the subject, but it also makes them think a bit further," said teacher Jomari Naude of Drostdy High Technical School in Worcester, which sent 75 learners to the event. (The competition does not follow the school curriculum).
Like many others, Grade 11 learner Nabeela van Derschyff of Queen's Park High School in Woodstock said that the competition has piqued her interest in studying at UCT.
"I would love to be part of the UCT family after matriculating," she says.
Competition director, Emeritus Professor John Webb of the Department of Mathematics and Applied Mathematics, said that the aim of the event is to attract learners to choose maths as a career, and to help them discover that, not only can they do the maths, but that it is enjoyable.
"We show learners that maths can be interesting. That is the point."
---
This work is licensed under a Creative Commons Attribution-NoDerivatives 4.0 International License.
Please view the republishing articles page for more information.
---