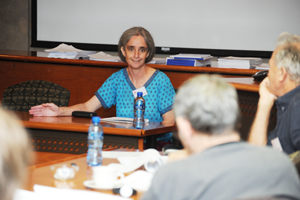 Boundaries: Speakers at the LRG's workshop on women's access to land rights included Debbie Budlender of the Community Agency for Social Enquiry.
There is a shift in unmarried women's access to land, says a recent Community Agency for Social Enquiry (CASE) survey of 3 000 women in three rural areas that were part of the apartheid 'homelands'. This contradicts the oft-repeated claims that customary law denies women access to land except through their husbands, fathers, brothers or sons.
This research was presented for discussion during a workshop on Gender, Land Rights and Contested Boundaries in Customary Law Contexts, convened by UCT's Law, Race and Gender Research Unit (LRG) on 15 and 16 March. The workshop reflected a collaboration between UCT, the Institute for Poverty, Land & Agrarian Studies (PLAAS) at the University of the Western Cape, and the Department of Sociology & Social Anthropology at Stellenbosch University.
Key international participants included Pauline Peters of the Harvard Kennedy School, Bridget O' Laughlin of the International Institute of Social Studies in The Hague, Professor Henry Bernstein of the School of Oriental and African Studies at the University of London, and Professor James Ferguson of Stanford University. They were joined by property expert, Dr Christian Lund, whose visit from Roskilde University in Denmark was facilitated through funding from the University Research Committee.
"The workshop brought together some of the world's leading anthropologists and legal minds," says Dr Dee Smythe, director of the LRG. "This workshop really opened up new possibilities for us in thinking about how we measure and interpret evidence of social change in our research."
A central question for discussion was how to explain the shifts in women's access to land. Some of the contextual issues include the large (and possibly increasing) numbers of single women establishing families outside of marriage, and in a climate of increasing unemployment, particularly among rural men. The impact of the transition to democracy in 1994 on the claims made by single women and the balance of power in rural areas was also highlighted as a central issue.
"On the ground, things are changing," Smythe adds.
However, what's happening at legislative level doesn't reflect this and very often can act to shut down "spaces for local contestion and the development of living customary law", she says.
Of primary concern to the LRG are the Traditional Leadership and Governance Framework Act of 2003 and the Traditional Courts Bill, currently before Parliament. These laws affect 17 million South Africans resident in the former homelands, says Smythe.
Both, she adds, have the ultimate effect of reinscribing traditional authority boundaries created by the Black Authorities Act of 1951 as the areas of jurisdiction for traditional leaders.
The colloquium considered the implications of these fixed boundaries for systems of layered land rights and nested authority. Participants argued that imposed boundaries fundamentally undermined local accountability mechanisms, captured in the saying that Khosi, ndi Khosi nga vhalanda (translated as "a chief is a chief by virtue of his people").
---
This work is licensed under a Creative Commons Attribution-NoDerivatives 4.0 International License.
Please view the republishing articles page for more information.
---