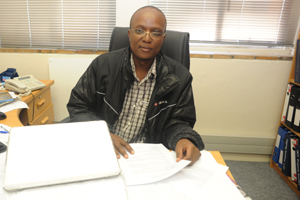 New beginnings: Dr Manya Mooya will publish his first book soon.
Dr Manya Mooya of the Department of Construction Economics and Management at UCT has many reasons to be delighted.
Not did he only land a prestigious contract with Springer, one of the world's largest publishing houses, to release his first book, but his work, Real Estate Valuation Theory: A critical appraisal, could be an answer to some of the challenges in real estate valuation.
Mooya noted that it is about a century since British economist Alfred Marshall created the (neoclassical) basis for conventional valuation theory.
"It has, however, become increasingly evident in recent times that this conventional theory is inadequate to deal with a number of key theoretical and practical problems in real estate valuation. The 2008 financial crisis is one example, where the sudden collapse of house prices was wholly unexpected, unforeseen and unforeseeable by valuers (using tools based on conventional models of the market)."
The 2008 crisis has left conventional theories of the market in some kind of disarray, explained Mooya.
"The time is, therefore, propitious for the book, as the environment is much more receptive for alternative theoretical viewpoints."
This multidisciplinary book critically reviews this theory, explains why it fails, and develops an alternative theoretical framework that will hopefully shed more light on some of the hitherto intractable problems, Mooya added.
The book is a culmination of Mooya's recent research, and is expected to be published in print, as an e-book and via other media in the first half of 2013.
"I see this as an excellent opportunity to showcase world class research from UCT to a world-wide audience."
---
This work is licensed under a Creative Commons Attribution-NoDerivatives 4.0 International License.
Please view the republishing articles page for more information.
---