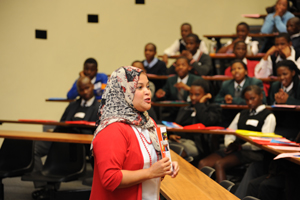 Bridging the gap: Ferial Parker, 100-Up project manager, talks to learners at the launch of the initiative.
A UCT survey paints a gloomy picture: few learners from Khayelitsha schools enrol at UCT, and some schools have never had a matriculant at this university.
To turn this around, UCT has launched 100-Up, an initiative described by Dr Jonathan Clark, director of the Schools Development Unit, as a "bridge built from both sides". Five academically strong Grade-10 learners from each of the 20 schools in the area have been recruited, and will be mentored and armed with academic and life skills over the next three years to better prepare them for university life.
"Khayelitsha may be only 30km away, but in many ways it is a world apart from UCT," Clark explained.
100-Up aims to build the learners' "intellectual, social and cultural capital". The 100 learners will be encouraged to pursue degrees in the sciences, engineering, commerce and related fields. The project will involve residential camps, exposure to UCT activities, a bi-weekly tutoring programme and from next year, a weekly Saturday school.
At the launch on 30 March, which was attended by parents, teachers and representatives of the Western Cape Department of Education, Clark urged the learners to dream big.
"Unlike a few years ago, it is no longer impossible for a Khayelitsha kid to come to UCT. You've got to believe you can be here in 2014."
A longer-term objective is to use 100-Up to garner knowledge and experience, which can better inform the university's bridging programmes and school-based interventions, Clark added.
---
This work is licensed under a Creative Commons Attribution-NoDerivatives 4.0 International License.
Please view the republishing articles page for more information.
---