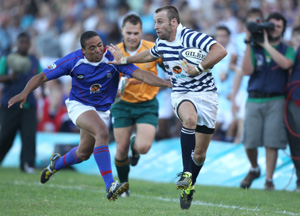 UCT's Peter Haw fends off a Shimlas defender.
You can hardly blame the University of Free State players for looking a little shell-shocked after the first half of their Varsity Cup semi-final against UCT's Ikey Tigers at UCT on Monday, 28 March.
Within 11 minutes, UCT had run in three tries and had raced 21-3 ahead; after 23 minutes they'd added two more tries and were 35-3 ahead; by the time the referee had blown for half-time - and offered the Shimlas a chance to regroup and figure out what day it was - UCT pretty much had the game in the bag at 45-3. By then the Tigers had amassed six tries, all converted by flyhalf Demetri Catrakilis, with a Catrakilis penalty thrown in for good measure.
As UCT had hoped, most of those tries came from Free State mistakes.
"Our game plan was to put as much pressure on them in their half, and then possibly live off that," said coach, Kevin Foote, after the match. "And the guys did that perfectly."
Foote, understandably, made a number of half-time changes. And while in the first half the UCT players had put in ferocious tackles despite the generous elbow room the scoreline allowed them, they didn't show quite the same application in the second half. Free State, in turn, had to be commended for not just rolling over. Yes, the final score of 57-20 in UCT's favour was not flattering or befitting a semi-final, but the Shimlas did manage to outscore the Tigers by 17-12 in that second half, scoring three tries to UCT's two.
That said, UCT surely convinced the bookies that they should be favourites going into the final on 11 April. This after log-leaders, the University of Johannesburg (UJ), the most consistent outfit over the Varsity Cup and with, on paper, the easiest of the possible semi-final draws, suffered a surprise 11-25 defeat at home at the hands of neighbours, University of Pretoria's Tuks, who had finished fourth on the log.
The statistics now favour UCT. This will be the Tigers' third Varsity Cup final, so the players shouldn't come down with any big-stage butterflies; Tuks have reached their first final. And the Tigers did beat Tuks in Pretoria just a week ago, if just barely at 19-17.
But it would be foolish for anyone to count their chickens just yet. Instead, says captain, Nick Fenton-Wells, UCT will try and do what they do best - running rugby.
All we're going to focus on is what the Ikeys are about."
Again, though, the Tigers will be frustrated that they won't be hosting the final because they lack the facilities. The Tuks win would have earned UCT, who finished higher on the log, the right to a Cape Town game. (See related story and video on UCT's plans for a new stadium.)
For now, though, location isn't too much of a worry, said Foote immediately after the UCT game and before the kick-off of the UJ-Tuks tie.
"They're [UJ and Tuks] both from up north, so we understand their style of rugby - it's physical, so we've got to stop that, no matter who we play against."
---
This work is licensed under a Creative Commons Attribution-NoDerivatives 4.0 International License.
Please view the republishing articles page for more information.
---