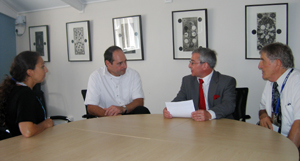 Dr Lesley Sage (second from right) of Nature is consulted at the Research Office by (from left) Dr Gaëlle Ramon, co-ordinator of the SET (science and engineering) stream of the Emerging Researcher Programme (ERP); Prof Leonard Barbour of the University of Stellenbosch; and UCT Emeritus Professor Luigi Nassimbeni, senior research scholar on the ERP.
Visiting UCT's research Office in February, Nature senior editor Dr Leslie Sage urged local researchers to submit articles to the prestigious journal - and gave a seminar on how to go about it.
Sage is senior editor: physical sciences, and his seminar, How to Publish a Paper in Nature, is part of the series of research development initiatives offered by the Emerging Researcher Programme (ERP) and the Programme for the Enhancement of Research Capacity (PERC).
Nature has one of the highest impact factors of any science research journal - reaching 34 480 in 2009 - and it is widely regarded as a great achievement to be published in the journal. (The impact factor is a measure of the frequency with which a journal's articles are cited in a particular year, and is used to evaluate the relative importance of journals.)
The seminar was attended by about 80 academics and postgraduate students. Sage also offered individual or small group consultations at the Research Office throughout the day for researchers who wanted to discuss publishing in one of the over 30 specialist journals under the Nature title.
Sage said Nature received very few submissions from South Africa. For example, in the 18 years he has been with the journal, he has received only four astronomy submissions from South Africa, from which two articles were published. In general, South Africa's astronomy research was on a par with Canada's he said, yet he'd received far more submissions from Canada - six or more a year.
With a reputation for publishing 'the best and most important work', Nature publishes only about 7% of the submissions it receives. Most papers are rejected without being sent to referees. The journal looks for articles that 'report a fundamental new physical insight, or announce a startling, unexpected or difficult-to-understand discovery or have striking conceptual novelty with specific predictions'. It is not uncommon for an article to be reported on national television in the United States on the same day it was published in the journal.
Nature articles should be comprehensible to a wide audience, Sage added. The journal has a policy that the first paragraph of an article should be written at a level "no higher than the level of an introductory undergraduate class" and the bulk of the paper "at the level of a first-year graduate course". Authors should avoid jargon and "babbling" and should limit the length of submissions to 1 500 words, with a maximum of four figures and 30 references. Supplementary information, for which there is no effective limit, can be provided online.
Sage also warned against unethical research practices and the faking of data. He said a study published in Nature in 2005 had found that about 30% of biomedical scientists in the US engage in some form of unethical behaviour. He said scientific societies should educate their members and employees as to what constitutes unethical behaviour. Scientists should encourage 'transparency' in all aspects of science and establish clear standards and lists of what not to do, and 'talk about the problem'.
Sage encourages researchers (postgraduate students as well as academics) who want to submit an article to Nature in his field (physical sciences) to email him with any questions before making their submissions. He advises that if you do contact him, "be prepared to answer questions about the significance of your results". Pre-submission enquiries can also be made via the web.
---
This work is licensed under a Creative Commons Attribution-NoDerivatives 4.0 International License.
Please view the republishing articles page for more information.
---