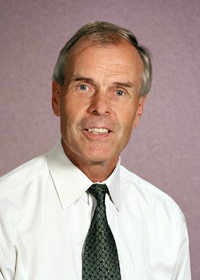 Doc times seven: UCT alumnus and regular donor Prof Klaus-Jürgen Bathe, now based at MIT in the US, recently received his seventh honorary doctorate.
When Professor Klaus-Jürgen Bathe stepped up to receive an honorary doctorate from the University of Buenos Aires in November last year, it was not an unfamiliar occurrence - the degree was, as a matter of fact, the seventh honorary doctorate he has received.
The other six attest to Bathe's reputation around the globe as a scholar. The degrees hail from the Slovak Academy of Sciences and Technical University of Zilina, Slovakia; the Technical University of Darmstadt, Germany; the Technical University of Rzeszow, Poland; the Technical University of Madrid, Spain; the University of Bucharest, Romania; and the University of Miskolc, Hungary.
Although born in Berlin in Germany - in the middle of World War II, in May 1943 - Bathe was to finish his first degree, a bachelor of science, here at UCT in 1967. He would return to UCT years later to complete a Doctor of Science degree, after further studies in Canada and the US. (He also holds a PhD in civil engineering from the University of California, Berkeley.)
These days Bathe is a much-celebrated, much-cited professor of mechanical engineering at the Massachusetts Institute of Technology. He is also hailed as a pioneer in the field of finite element analysis - a technique to find approximate solutions to partial differential equations - and has been listed as a highly-cited author in engineering by the ISI Web of Knowledge.
Despite these and many more achievements at other world-leading institutions, Bathe has never forgotten his alma mater.
Since 1997, he has donated around R3 million to UCT through his foundation, the Klaus-Jürgen Bathe Charitable Foundation. The lion's share of this money has been earmarked for bursaries, notably the Klaus-Jürgen Bathe Scholarships in Engineering, one of which was awarded this week.
Receiving the scholarship, said recipient Benjamin Meltzer, had motivated him to work harder. "I want to achieve good marks, now not only for myself, but as proof to the university that their scholarship was not wasted on me."
Observed Dr Jim McNamara, executive director of development and alumni affairs at UCT: "Professor Bathe is a very treasured donor to UCT."
Bathe still recalls his days here fondly.
"I am very thankful to UCT," he says, "because the education I obtained at UCT was excellent, and the time I spent as a student at UCT was wonderful. I am glad to see that UCT continues to be a very good university for many areas of study."
---
This work is licensed under a Creative Commons Attribution-NoDerivatives 4.0 International License.
Please view the republishing articles page for more information.
---