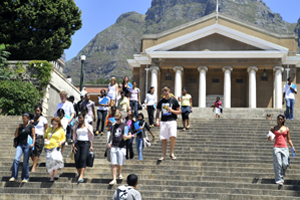 Seventy first-year students could not have begun their studies at UCT on a better note than receiving the Vice-Chancellor's and Achievement Scholarships honours they hadn't even applied for.
The Vice-Chancellor's Scholarships, amounting to R25 000 each, have been offered to 40 freshers in recognition of academic excellence in their matriculation exams.
These scholarships are across faculties, and have been awarded in four categories: to 10 top students who registered from the Western Cape Department of Education (WCED); to the 10 top students that hail from schools that fall under the former Department of Education and Training and former House of Representatives Education Department in the Western Cape; to the 15 best students that registered from the Department of Education (except WCED); and to the five top students who did the national Independent Examination Board exams.
The 30 Achievement Scholarships, in turn, amount to R15 000 each, and are based on developing partnerships with particular school groups or schools in a geographical area. The schools are those that form part of the Maths and Science Education Programme; in Mitchells Plain, Khayelitsha, Strandfontein, and Kensington areas, and schools in Umlazi in KwaZulu-Natal.
Because students needn't apply for the awards, it took them all by surprise.
Tariq Allie-ebrahim, a chemical engineering student who matriculated from Rondebosch Boys' High School, said it motivated him to work even harder.
"The scholarship and the prestige associated with it mean that I have to continue to work extremely hard to remain in this top bracket of students to justify me receiving the award. It will not lead me to suddenly become lazy due to the fact that I am of the special few."
Download the list of the Vice-Chancellor scholarship recipients.
Download the list of the Achievement Scholarship recipients.
---
This work is licensed under a Creative Commons Attribution-NoDerivatives 4.0 International License.
Please view the republishing articles page for more information.
---