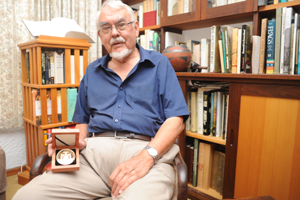 Living legend: Prof Jacques Charl de Villiers's work to start the Cape Medical Museum has earned him the Simon van der Stel Foundation's Gold Medal.
Professor Jacques Charl de Villiers, former head of the Department of Neurosurgery at UCT, believes that Cape Town was established because of disease.
Hundreds of Dutch seamen died on sailing ships due to scurvy which resulted from lack of fresh food on these long sea voyages to the East. The Cape, he explains, with its rich biodiversity, made for a good pit stop.
So it was strange to De Villiers, a UCT graduate, that such history was not recorded and retold well enough. Which is why he set up the Cape Medical Museum 29 years ago.
His work was recognised recently when the Simon van der Stel Foundation awarded him its Gold Medal.
That took him by surprise, he says.
"I never thought that this would be possible because starting a museum was like a hobby."
The museum, around the corner from the Somerset Hospital on the Waterfront in Cape Town, records a vital part of our history.
"Medicine is not a side issue, but a central theme in the history of this settlement," he said. "If we are here because of diseases, then that should be remembered. And the museum is one way of doing that."
De Villiers wishes that the museum be acknowledged and developed into a showpiece for visitors to this city.
For many years, De Villiers conducted research on the medical history of the Anglo-Boer War, culminating in a two-volume history, Healers, Helpers and Hospitals.
---
This work is licensed under a Creative Commons Attribution-NoDerivatives 4.0 International License.
Please view the republishing articles page for more information.
---