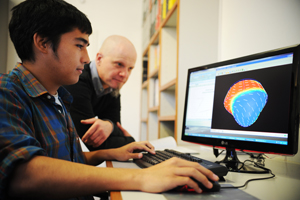 Hearty work: Jesse Macadangdang (left) and Dr Thomas Franz start prep work on their new collaboration with the CHPC.
Medical researchers in growing numbers are switching from pipettes to processors as they begin to tap into the range of souped-up supercomputers so beloved by other disciplines.
Among them are researchers at UCT's Cardiovascular Research Unit (CVRU), who recently joined forces with the Centre for Research in Computational and Applied Mechanics (CERECAM) and the Centre for High-Performance Computing (CHPC) for a three-year research project, funded by the CHPC to the tune of R2.2 million. Specifically, this exercise in computational biomechanics will explore possible treatments for myocardial infarction, better known as heart attack.
The project builds on the work of project co-investigator Dr Neil Davies of the Biology Group in the CVRU, who's been looking into the use of a synthetic polyethylene glycol hydrogel - essentially a plastic and chemical compound - to repair the weakened walls of the heart following a heart attack. The hydrogel is injected into the heart, where it gels, sprawling out to form a web-like substance that shores up the heart muscle's damaged tissue. In theory, anyway.
While results in Davies' animal tests have been promising, little is known about the effect the hydrogel has on the mechanics of the heart. Could other role players (such as tissue cells) be helping, they wonder?
Which is where the CHPC's banks of supercomputers - the fastest in Africa, the centre boasts - come in.
"We now want to model the behaviour of the mechanics of the heart with and without the hydrogels," says principal investigator Dr Thomas Franz, who leads the Biomechanical Sciences Group in the CVRU.
It is also only the CHPC's second flagship project in the life sciences - out of 12 flagship projects all in all - since its launch in 2007. Which is why, reports CHPC director Dr Happy Sithole, the centre is giving it "high priority", and is keen to promote partnerships between the centre and those in the life sciences.
"Studies in the life sciences have a direct impact on the population at large," he says.
Other collaborators on the project are CERECAM's Professor Daya Reddy and Dr Sebastian Skatulla. And in keeping with its interest in developing human capacity, the project also involves postdoctoral fellow Dr Jeroen Kortsmit, doctoral researchers Mazin Sirry, Dr Karen Kadner and Fulufhelo Masithulela, master's students Renee Miller, James Mbewu and Peter Wise (all of UCT), and biomedical engineering student Jesse Macadangdang from the University of Virginia in the US.
Funding for the CHPC-flagship partnerships comes from the national Department of Science and Technology.
---
This work is licensed under a Creative Commons Attribution-NoDerivatives 4.0 International License.
Please view the republishing articles page for more information.
---