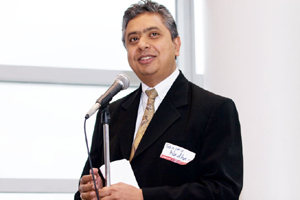 Open approach: Vice-president of the World Bank Institute, Sanjay Pradhan, outlined the World Bank's vision for open development at a presentation hosted by the DGRU.
Open knowledge, multiple knowledge nodes, open data and crowd sourcing were some of the buzzwords Sanjay Pradhan, vice-president of the World Bank Institute, used to explain the bank's new approach to development.
In his presentation, titled Democracy and Governance: What's on the horizon?, hosted by UCT's Democratic Governance and Rights Unit (DGRU) on 16 February, Pradhan outlined the World Bank's vision of open development. (The World Bank Institute is the capacity-development arm of the World Bank.)
"Open development challenges the traditional notion that Northern and Western aid institutions have some kind of monopoly on superior knowledge and wisdom," explained Pradham. "They don't, of course, and they never did. This notion is even more laughable in this day and age. The dominance and monopoly of knowledge has broken down, and the centres for knowledge have changed."
The plan is to open up data and knowledge to many institutions around the world to develop "multiple sources of knowledge", which can provide far more insight into development than a central source.
"We have changed our paradigm. We now we see ourselves as a connector of knowledge, rather than the centre."
Rather than relying on a single institution in a country, explained Pradhim, the bank now aims to forge partnerships with multiple institutions in developing countries.
To this end, said Pradhan, the World Bank Institute is discussing partnership projects with the DGRU, as well as UCT's African Centre for Cities.
"By partnering with nodes of development with a greater knowledge of Africa, they, rather than us, become a centre for knowledge."
---
This work is licensed under a Creative Commons Attribution-NoDerivatives 4.0 International License.
Please view the republishing articles page for more information.
---