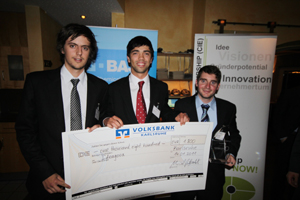 The winning team: Justin Alvey, Jono Lewis and Matt Walsh hold the cheque after winning the Business Masters International Business Case Competition 2011.
They may be pursuing different disciplines, but an innovative business case study by three UCT students has won the Business Masters International Business Case Competition 2011 at the Karlsruhe Institute of Technology (KIT) in Germany recently.
Team Ideagora, made up of Jono Lewis, an honours graduate in international relations; Matt Walsh, who is doing his master's in international relations; and Justin Alvey, a master's student in electrical engineering, took the first prize, becoming the only team from Africa to have done so. They won €1 800 (about R14 000), and visited the Ludwigshafen-based global headquarters of the sponsors, BASF, the world's largest integrated chemical complex. The competition was also sponsored by KIT's Center for Innovation and Entrepreneurship (CIE) and KICInnoEnergy.
With emphasis on innovative applications of emergent technology, the competition puts students from around the globe against each other, to not only tests their business skills and technical understanding, but also their sense for entrepreneurship and their nose for market opportunities.
The focus this year was on innovative energy solutions. Team Ideagora designed a business case around the use of lithium-ion battery technology for renewable energy applications. Team Ideagora branded their concept Kita which involves an adaptation of lithium-ion battery technology for micro-energy storage and electrification applications in developing communities in Sub-Saharan Africa.
Lewis noted that their knowledge of their market, and emphasis on community development, gave them the edge.
"Knowing the general state of electricification rates in sub-Saharan Africa, and the social upliftment opportunities that our service could deliver, gave us an advantage," he said. "We were adamantly social in our enterprise outlook where profit had to have purpose."
---
This work is licensed under a Creative Commons Attribution-NoDerivatives 4.0 International License.
Please view the republishing articles page for more information.
---