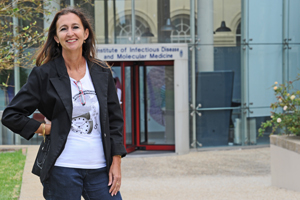 Prof Valerie Mizrahi.
Professor Valerie Mizrahi took the scenic route in a distinguished career path that has led to her new appointment as director of UCT's Institute of Molecular Medicine and Infectious Diseases (IIDMM) from 1 January.
Mizrahi has not arrived empty-handed. She brings with her a newly-formed partnership with the University of the Witwatersrand and Stellenbosch University in the form of a national centre of excellence for TB research.
Mizrahi's journey began with mathematics and chemistry, but after earning her chemistry PhD at UCT in 1983, she abruptly took a detour into the fresh complexities of biology.
"It was the ground-breaking start of molecular biology, so I really felt the need to capitalise on that," she recalls. "People said that suddenly changing fields was either reckless or brave, but I found that my chemistry and maths background really set me up well for moving into biology."
Mizrahi took on a postdoctoral fellowship in biochemistry at Penn State University in the US, in the lab of the world-renowned enzymologist Stephen Benkovic, then returned to South Africa in 1986 to join the Centre for Molecular and Cell Biology, based at Wits and supported by the Council for Scientific and Industrial Research.
Following a year of "hard-core biology", Mizrahi returned to the US to join pharmaceutical giant Smith Kline & French to work in the field of HIV drug discovery.
"So I went from chemistry to biochemistry to molecular biology to drug discovery, and I think this is where my interest in infectious disease research was inspired."
In 1989 Mizrahi finally decided to settle in South Africa and returned to launch the Molecular Biology Unit at the South African Institute for Medical Research.
But after two years of HIV research, she once again reached a T-junction and abruptly changed direction.
"I realised that TB was an underexplored, hugely important area in which I could use my knowledge as a biochemist. But I knew nothing about microbiology or genetics, so again I had to learn."
Steering her lab team in this new direction, in 2000 Mizrahi established the Molecular Mycobacteriology Research Unit, jointly funded by the South African Medical Research Council, the National Health Laboratory Service and Wits; and then served as co-director of the Centre of Excellence for Biomedical TB Research, jointly funded by the Department of Science and Technology and the National Research Foundation.
"Repeatedly, I have been given the freedom to reinvent myself," says Mizrahi, "and this has helped define my career. I believe that giving young people with fire in their bellies an opportunity can make all the difference."
Now at UCT's IIDMM, Mizrahi not only takes the reins as institute director from Professor Greg Hussey, but also comes on board as head of the UCT node of the partnership with Wits and Stellenbosch in the Centre of Excellence for Biomedical TB Research.
"Silos of real strength and international leadership in this field have emerged from the Western Cape, so it's an obvious place for me to be."
Mizrahi plans to bring a "mycobacterial physiology and genetics presence" to some of the clinically-oriented TB work at the IIDMM.
"I have to distinguish between coming in here as a director and coming here with a lab which I'm establishing with my colleague, Digby Warner," says Mizrahi, "but in a way, these are aligned. I saw the opportunity to bring TB-focused bacterial genetics, physiology and metabolism research to the institute, as it's not an area that's been particularly active."
A key aspect of Mizrahi's vision for the institute is collaboration.
"I've always run a small and focused group. The members of my group and I are looking forward to the opportunity of establishing collaborations across the institute, while maintaining our identity and continuing to strive for excellence in the work we do and the people we train."
Excellence is a word that has followed Mizrahi throughout her career.
"There's no room for mediocrity here. Excellence is what I've aspired towards in my own work and excellence is what this institute is about."
Mizrahi acknowledges that to call the goals of TB research daunting would be a gross understatement.
"We need better vaccines, shorter treatments and better diagnostics. Taking the existing regimen of TB drugs for six months is very tough on patients. Yes, they work, but the most recent drug we use was developed more than 40 years ago. And in diagnosing TB, we are still reliant on methods that have been used for over a century.
"This is why world-class research on diseases such as tuberculosis is so important. Better tools for controlling TB will revolutionise our ability to deal with a disease that preys on poverty and social inequality - problems that continue to plague our continent."
View video.
---
This work is licensed under a Creative Commons Attribution-NoDerivatives 4.0 International License.
Please view the republishing articles page for more information.
---