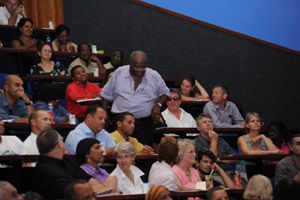 Hard talk: Rector and VC of the University of the Free State, Prof Jonathan Jansen, argued for a better education system in an open lecture hosted by UCT's Schools Development Unit.
Controversial rector and vice-chancellor of the University of the Free State, Professor Jonathan Jansen, is not one to shy away from raising a few eyebrows. Even the title of his lecture on 2 February for UCT's Schools Development Unit was designed to turn heads.
In What School Reform can Learn from the Rhythm Method in Sex, Jansen tackled the problems facing education in South Africa, and methods educators can use to reverse its decline.
He notes that although South Africa spends far more on education than other African nations, its performance is weaker than much poorer countries.
"We can't make changes by doing the same thing over and over again," said Jansen. "We have to upset the provincial government."
Jansen cited problems such as poor attendance ("We used to have this little thing called compulsory attendance.") and low pass requirements.
"Show me another country where you can get 40% and pass," challenged Jansen, calling for the pass mark to be pushed up to 70%. "We've become accustomed to just getting by. But even if a student passes with 50% it means that he doesn't know half of what he was taught. Do you want to be treated by half a doctor?"
Among Jansen's key suggestions was that educators heighten their expectations of students to encourage better performance.
"Students need to know what you expect from each of them. They need to know that they are special."
Jansen also proposed the setting of clear goals, shared by students and staff, strategic planning to achieve them, and building a strong team.
"Delegate responsibility to leaders with skills that compliment your own, and who can tell you how bad you're doing without fear," said Jansen. "My biggest fear is that I'll screw up and nobody will tell me."
Jansen unreservedly placed the responsibility to build better educational institutions in the hands of educators. "Kids want to succeed, but as adults we fail them. I've never met a learner who wants to mess up a year."
---
This work is licensed under a Creative Commons Attribution-NoDerivatives 4.0 International License.
Please view the republishing articles page for more information.
---