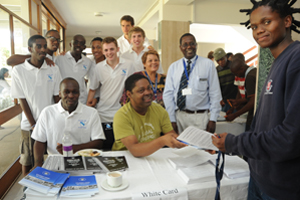 Home from home: Residence life began in earnest when first-year students received their keys. Welcome: Fresher Nonofo Seketema (far right) at Kopano Residence is welcomed by warden Prof Evance Kalula, and his residence facility officer, Rosy Williams (next to him), as well assistant warden, Jerome September (seated), and the residence's House Committee members.
Residence life kicked-off this week when throngs of first-year students, armed with suitcases, duvets and pillows led the pack to move into their new rooms.
There was much excitement among the students, but some anxiety from their attendant parents.
"It is a new place in a new country with new people. I don't know what my child will be exposed to, what friends she will make, and how safe will she be," said Zimbabwean Regina Mutanhaurwa.
Like many parents, some from as close as Gugulethu and others from as far as Ghana and China, Mutanhaurwa hopes that her daughter, Rumbidzai, will take her advice: "Make good friends at your level and focus on what you came here for - to study."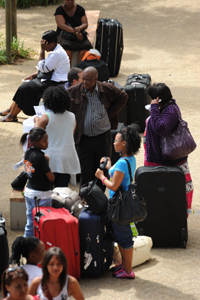 Ghanaian Kojo Gyan, who now lives in the Eastern Cape, told his son, Laurence: "Enjoy yourself, but don't over-indulge!"
Gyan junior was impressed with his residence room, and expects residence life to be fun but "hectic" in terms of academic demands.
Professor Evance Kalula, warden of Kopano Residence, which houses 367 male students, said diversity is a stand-out feature among their residence community in terms of disciplines, background and class. His team has been hard at work to improve and extend the mentoring system to support incoming new students.
While residence rooms may be a far cry from home, demand far exceeds supply.
UCT has a capacity of 5 618 beds, but received 19 543 applicants for accommodation (16 390 from undergraduates and 3 153 from postgraduates), according to Grant Willis, director of Student Housing and Residence Life. More beds will be available next year when the 930-bed Obz Square, currently under construction, is completed. Obz Squarre is one of the ways UCT is addressing the shortage of places in residences.
---
This work is licensed under a Creative Commons Attribution-NoDerivatives 4.0 International License.
Please view the republishing articles page for more information.
---