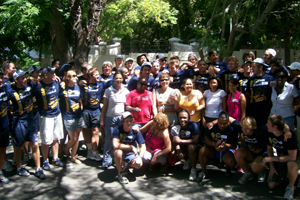 Lift those blues: UCT rugby players and staff of Sisters Incorporated celebrate the completion of a hard day's work at the home, which the UCT students painted and cleaned on Saturday.
Linda Fugard of Sisters Incorporated, a nearby shelter for abused women and their children, cannot praise UCT rugby players highly enough.
This after more than 40 members - players plus staff - of the UCT Rugby Club scraped and cleaned and painted and laboured for most of Saturday, 29 January, as they spruced up facility offices, bathrooms, bedrooms and walls, including the entire second house belonging to the facility. "That, for one, was a huge help," says Fugard, manager at Sisters Incorporated.
But more than that, she adds, for one day the residents of the home - where men are usually not allowed - were surrounded by 40 positive male role models, a far cry from the men the residents have had to deal with in the past. At the braai put on by the home after the day's exhausting toil, she tells, the weary and clearly starving students still insisted that the residents dish first.
"It was lovely to have gentlemen here. And it was good for the kids and women to know that there are good men out there."
The initiative was a joint initiative between the Rugby Club and Varsity Cup. UCT rugby players are no strangers to the annual pre-season outreach, having in the past helped Habitat for Humanity build homes.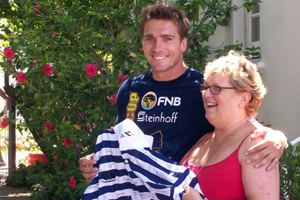 This year the club chose to assist Sisters Incorporated, in keeping with Varsity Cup's official drive to raise awareness about violence against women and children through its Varsity Cup Trust and its Pink Shorts campaign. In 2010 Varsity Cup introduced the eye-catching pink shorts, worn by the preceding ties' Man of the Match, in support of cancer awareness. (This year, all eight captains will don pink shorts in the opening clashes, and the four Players of the Match in every game thereafter.) See the Varsity Cup website.
"Before our day out at Sisters Incorporated we were well aware of women and child abuse, but not to the extent that we were made aware of by Sisters Incorporated," says UCT first team captain, Nick Fenton-Wells. "As a team and the youth of South Africa, we wanted to show that the Ikey Tigers strongly oppose women and child abuse, and that we will stand in the way of any person who commits domestic violence upon a woman or child."
Varsity Cup also donated R20 000 to UCT's maintenance work at Sisters Incorporated. Not only did that money cover the costs of all the materials on Saturday, but will also help the home hire someone to do some of the work the students couldn't get to.
---
This work is licensed under a Creative Commons Attribution-NoDerivatives 4.0 International License.
Please view the republishing articles page for more information.
---