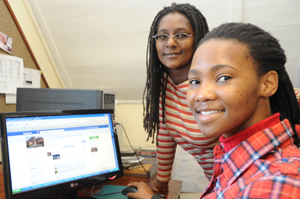 Switched on: UCT web editor Shumi Chimombe (left) and web intern Mamello Mongoatu keep tabs on the university's social media sites.
Despite its short life the UCT Facebook page has exceeded 6 000 fans, with just a month to go before its first birthday.
The Communication & Marketing Department (CMD) set up the site as a complementary news platform to showcase the university's research, teaching and learning, as well as its campus and student life. With most of the status updates being linked to the online daily news and the fortnightly Monday Paper, plus the added value of lots more pictures and the occasional video, the page is an alternative way of spreading the news and reaching thousands of people who are interested in keeping up with developments on campus.
There are some who have asked: Why are we even on Facebook?
Facebook, a social networking site which was launched almost seven years ago, has garnered over half a billion active users, becoming the second most popular site on the web after Google (YouTube is number 3, according to the web traffic-reporting website www.alexa.com). In South Africa, it is also one of the top three sites. This means that a lot of people are spending a lot of time on Facebook, connecting with each other and sharing news and information.
This trend hasn't gone unnoticed by universities, and they have bought into the power of Facebook and other social networks such as Twitter, YouTube and Linkedin, as well as blogs, to reach out and interact with their students and with the community.
"The UCT Facebook page provides that social space that brings together a community united by a common interest - to stay informed about the latest news on campus," said web editor, Shumi Chimombe. "It allows UCT to engage directly with its audience, which consists mostly of potential and current local and international students, staff, alumni, and others who are simply interested in getting a glimpse of what life at UCT is like. And it also allows the community to connect with the university, commenting on the stories as well as interacting with each other. It's a quick, dynamic, two-way conversation."
With graduation now upon us, a new generation of alumni will walk away from Jameson Hall filled with memories of their student days. The Facebook page will ensure that those memories will not fade too soon.
You can access our social networks by clicking on the icons on the UCT website homepage.
---
This work is licensed under a Creative Commons Attribution-NoDerivatives 4.0 International License.
Please view the republishing articles page for more information.
---