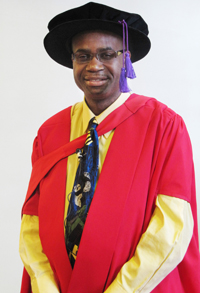 Discovery channel: In his inaugural lecture, Prof Kelly Chibale spoke of the drug-discovery lessons that can be learned from the pharmaceutical industry.
Professor Kelly Chibale has been at UCT for some 14 years, on the prowl for molecules that could potentially be applied in life-saving medicines. But it's only over the past three or four years, he says, that he's learned the most about drug discovery, lessons he explored in his recent inaugural lecture, Kissing Many Frogs Before Meeting the Prince: What it takes to discover pre-clinical drug candidates.
Lessons number one to four are that drug discovery takes time, money, multi-disciplinary skills and - back to the money - consistent funding. Identifying a lead molecule is but the first step in a process that can take from 10 to 20 years, and can cost hundreds of millions - if not billions - of rands, with many wrong turns and dead ends.
For every drug that makes it onto the market, hundreds of possible compounds will have been identified, tested and rejected, explains Chibale, of UCT's Department of Chemistry and the Institute for Infectious Diseases and Molecular Medicine.
But money and time are not the only ingredients. Also essential is a critical mass of skills and experience.
It is here that South Africa is found most wanting.
"We don't have a track record of discovering, developing and testing medicines," Chibale says. "We don't have the know-how."
Which means that the country is missing out on opportunities along the drug-discovery value chain, argues Chibale. Yes, South Africa has strengths in identifying compounds and running essential clinical trials at the end of the line, but we are making few contributions in the middle of that R&D value chain.
Partnerships are key, says Chibale, who's initiated a few in his studies on anti-malarial and other drugs. And he's exploring more as he looks into launching a Drug Discovering Centre at UCT.
Funding forthcoming, that centre will allow him to inject some of the lessons he's learned from the pharmaceutical industry and start building that critical mass of skills and experience.
---
This work is licensed under a Creative Commons Attribution-NoDerivatives 4.0 International License.
Please view the republishing articles page for more information.
---