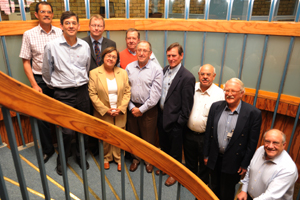 Stepping up: Leading the Faculty of Health Sciences' first International Research Review were (from left) Prof William Pick, Prof Gregory Hussey, Dr Malcolm von Schantz, Prof Marian Jacobs, Prof David Beatty, Dr Leon Fine, Prof Robert Millar, Prof Alejandro Cravioto of the International Centre for Diarrheal Disease Research, Bangladesh, Prof Wieland Gevers and Prof Siamon Gordon.
Discovery and impact were the watchwords at the opening briefing session of the Faculty of Health Sciences' first International Research Review, held on 22 November to 24 November.
In her opening address, the dean, Professor Marian Jacobs, told the panel that "the notion of a broad spectrum of health services is actually fundamental to what the faculty does. We have inherited a rich legacy, from people such as those on the review panel and we, as a faculty, now need to build on that to contribute to science in South Africa and globally".
Deputy dean for research, Professor Gregory Hussey, explained the focus of the review: "Attention will be paid to current and past research activities and productivity in order to identify strengths, weaknesses and opportunities. This will be accompanied by an exercise in forecasting, to identify those disciplines, platforms and approaches necessary to secure the faculty's future as a leading research institution globally."
The faculty also reviewed its partnerships, including its South-South collaborations, and the potential for forging strong links with institutions in countries such as Brazil.
Among the issues discussed were the ageing academic cohort, the need to create the next generation of academics; and remedying racial and gender imbalances. Professor Danie Visser, deputy vice-chancellor for research, pointed out that over 50% of UCT articles published were by academics older than 50, while women researchers accounted for only 25-30% of the total, and only 15% of UCT academics are black.
Visser added that in order for UCT to meet its aspiration of being research-led, the research activities of the faculties had an imperative to "do something that has value to others". More importantly, these research activities must inform not only teaching in the university, but also identify ways for the community to benefit, either directly through social responsiveness, or indirectly through informing policy and professional practices, he said.
---
This work is licensed under a Creative Commons Attribution-NoDerivatives 4.0 International License.
Please view the republishing articles page for more information.
---