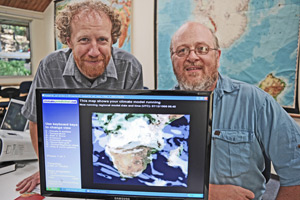 Heavy weather: Project leader Dr Dáithí Stone and director of CSAG, Professor Bruce Hewitson, at the launch of the Weather Risk Attribution Forecast and weatherathome experiment.
The Earth won't be destroyed by global warming because God promised Noah after the flood that he wouldn't.
This is the view of US Republican Congressman John Shimkus, a vocal opponent of Barack Obama's American Clean Energy and Security Act aimed at limiting carbon emissions, who last year hoped to chair the powerful House Energy Committee in the country's House of Representatives.
Views such as the congressman's are understandably alarming for Professor Bruce Hewitson, the National Research Foundation Chair for Climate Change at UCT. Speaking on 17 November at the media launch of two new online services aimed at bridging the communications gap between scientists and the people, Hewitson emphasised that complex data was often lost in translation, and misrepresented in the media.
Hewitson's Climate Systems Analysis Group (CSAG) has been hard at work addressing this knowledge shortage on two fronts. Firstly, the unit is managing the regional leg of the international weatherathome online experiment, a project including Oxford University and the Met Office in the UK and the University of Washington in the US, and funded by Microsoft.
Internet users are invited to go to weatherathome.org and download state-of-the-art global-regional climate model software, which then uses the computer's spare processing time, when the user is not actively working but still has it switched on.
The software is locally focused, so over a period of a few weeks Southern African computers will calculate the changing weather over the region.
Once the simulation is complete, the results will be uploaded automatically to UCT researchers, who will be able to determine how our weather has been changing and, in particular, whether damaging weather events are becoming more or less frequent.
Participants can also use the software to get a ringside view of the project, as it includes graphics on how the simulation is progressing and what the simulated weather is at that particular moment.
CSAG also launched the Weather Risk Attribution Forecast - the world's first real-time service to examine how humanity's past greenhouse gas emissions have contributed to unusual weather patterns.
This question is one of the world's leading topics for debate in climate change, and, for the public, often takes the form of, "Are these crazy weather conditions caused by greenhouse gas emissions?". This is a question this project tackles head-on.
Soon to be available for download, the Weather Risk Attribution Forecast predicts weather for a hypothetical "non-GHG world" in which human activities had never emitted greenhouse gases. These forecasts are then compared with real-world forecasts in order to estimate the contribution of greenhouse gas emissions to weather events.
Dr Chris Lennard, who heads CSAG's seasonal forecasts, explains: "Climate change is usually discussed as being in the past or in the future, but in fact it is also very much a matter of the present. We all live in the present, but climate change is occurring fast enough that our definition of the present matters. For instance, a seasonal forecast of a hotter summer than usual may be less informative than it appears because most summers now are hotter than what was usual just a few of decades ago."
CSAG's Dr Mark Tadross added: "Estimates of the contribution of our emissions to a damaging event could be particularly useful for Africa. As part of the global negotiations in dealing with the climate change issue, a large amount of funding will become available in the next few years to pay for measures in Africa to adapt to climate change."
Tadross adds that not only would the Weather Risk Attribution Forecast inform stakeholders about what adaptation measures are urgently needed, but it should also assist the funding application process. The service will also be a platform for gaining experience with different types of attribution information and how to convey the information.
Project scientist Dr Dáithí Stone notes: "By actually getting our hands dirty and running this service, we hope to better understand exactly what questions are being asked, what we can confidently say about them, and how we can present the answers."
Stone adds that the project is still in the experimental pilot stage so there's no guarantee of accuracy, but he encourages users to try it out and send in their feedback.
For more information on the Weather Risk Attribution Forecast service, go here.
---
This work is licensed under a Creative Commons Attribution-NoDerivatives 4.0 International License.
Please view the republishing articles page for more information.
---