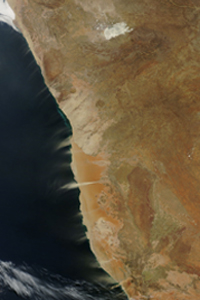 Up high: An August 2010 picture from the MODIS group of satellites shows dust plumes extending along the length of the Namibian coastline.
Scientists are beginning to realise that they may have been selling dust short.
Which may be one of the reasons the Southern African Association of Geomorphologists (SAAG) has named the master's thesis of UCT student Kathryn Vickery (pictured below) as the best for 2010. In that thesis, Southern African Dust Sources as Identified by Multiple Space-Borne Sensors, Vickery not only points out for the first time some of the largest points of origin of dust on the sub-continent, but also hints at some of the environmental and climatological roles that it can play.
There's patchy information on the functions of aerosols - floating plumes of fine solid particles - in the region. The aerosols, including dust, floating across the Atlantic Ocean off the Sahara Desert, for example, is said to be one of the largest sources of nutrients for the Amazon Basin in South America.
But beyond that, studies on dust in the region are few and far between.
"We don't really know where the dust goes or what it does," Vickery says.
Working off some 5 000 images of various resolutions obtained off Meteosat and MODIS (Moderate-Resolution Imaging Spectroradiometer) satellites, she looked at what aerosols are blowing off Southern Africa, their make-up, where they're heading and how long it takes them to get there. She paid particular attention to salty aerosols coming off the Makgadikgadi Pan in Botswana, one of the largest salt flats in the world, and the Etosha Pan in Namibia.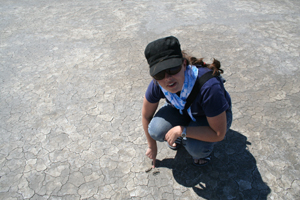 Other than identifying the dust sources, Vickery also explored their links with regional weather patterns.
It's that kind of detailed work - "basically I sat and looked at thousands of jpegs" - that likely impressed SAAG. In turn Vickery, who did her master's under the supervision of Dr Frank Eckardt in the Department of Environmental and Geographical Science, is grateful for the honour (and the prize money, mostly blown over a recent holiday in New Zealand).
"I guess it's just really nice to have your research acknowledged, by the research community that you hope to reach," she says.
But even an award-winning master's thesis is not going to answer all the questions. And Vickery is not going to let any dust gather on her groundwork.
She also recently won a prestigious Commonwealth Scholarship, which she'll put to good use for her doctoral studies on the same subject at UCT and Sheffield University in the UK over the next few years.
Expect her to scrutinise a few thousand more jpegs.
---
This work is licensed under a Creative Commons Attribution-NoDerivatives 4.0 International License.
Please view the republishing articles page for more information.
---