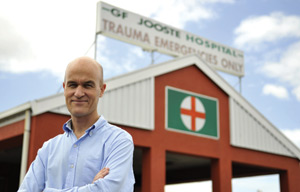 Dr Graeme Meintjes
Dr Graeme Meintjes, a Wellcome Trust Fellow at UCT, has published a study in the journal Clinical Infectious Diseases on the largest case series ever reported of a complex and increasingly common condition, TB IRIS, which affects people taking combined medication for HIV and TB.
TB IRIS, or the HIV-tuberculosis immune reconstitution inflammatory syndrome, refers to the recurrence of tuberculosis symptoms in HIV-positive individuals who are on treatment for TB and then start antiretroviral therapy. The study, conducted from 2005 to 2006 at the community-based GF Jooste Hospital in Manenberg, Cape Town, evaluated 100 individuals with suspected TB IRIS. It describes a paradoxical deterioration in patients being treated for both HIV and TB with drugs that are otherwise lifesaving. The TB IRIS syndrome is common in the Western Cape, linked to the triple coincidence of a very high tuberculosis notification rate (before the HIV epidemic, the province had – and still has – the country's highest TB rate), an expanding HIV epidemic, and widespread access to treatment for both conditions.
Many are reporting a recurrence of TB symptoms such as coughs, night sweats, glandular swellings and abdominal abscesses. "ARVs cause an improvement in the immune function, which drives inflammation at the site of TB," Meintjes explains.
---
This work is licensed under a Creative Commons Attribution-NoDerivatives 4.0 International License.
Please view the republishing articles page for more information.
---