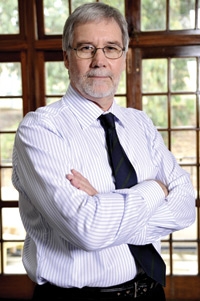 Professor Danie Visser
We live in a global society that counts and measure everything – including the volume and impact of research. If we count and measure in the right way, these numbers are useful, because they give us an idea of how we are doing compared to others who are engaged in the same enterprise – and it is good to know if you are generally efficient, and spending the money of your funders wisely.
But if citation indices, world rankings and the like are allowed to dictate the whole of a university's research agenda, that university is unlikely to be an intellectual hub that shakes up the world.
Universities are complex institutions that do many different things, but in order to do one of the most important things that they are good at – namely, to renew the world through fresh ideas – the academics that populate them need four things: time; resources; diversity; and freedom. Let us consider each in turn.
First, academics need the space to think. This means that a modern university, even though it cannot avoid measuring performance, must be sensible. It must allow the time for people to tackle big projects – the big book, or the research question that takes years to answer. And to do so, it must look at the total academic job and craft it in such a way that it does not crush the delight of discovery, of invention, and of meaningful thought. Only then can we expect our universities to astonish us with their ideas.
Secondly, they need abundant resources. At a recent research indaba at our university, my colleague William Bond from the Botany Department made the following cri du coeur: "Don't give us money, give us time." He is right; but alas, in the end – although merely having money is no guarantee of success – we cannot do without the resources. The Government, the universities and the individual researchers all contribute to channelling money into the research pot.
However, the Government's commitment to research funding is the sine qua non. Without that, the benefits that universities bring – both internally (by virtue of their support for and stimulation of development) and externally (by virtue of their enabling South Africa to hold its own in global competition) – will be muted.
Fortunately, the Department of Science and Technology has demonstrated in various ways that it is serious about funding research, for example by rolling out the South African Research Chairs Initiative, establishing Centres of Excellence, and by setting ambitious targets for improving the spending on research as a percentage of GDP.
It recently announced a further R255-million in research support this year. The Department of Higher Education and Training of course also provides considerable subisidies to universities based on search output.
This brings us to the third component of success as a research university. Academics need to work in a diverse community. We must combine the best people that we have (staff and students) with the best from the rest of our continent and the world.
There is remarkable research that shows that the more diverse an institution is, the better it will be at solving problems.
Thus Scott E Page said the following in an interview with the New York Times about his remarkable book The Difference: How the Power of Diversity Creates Better Groups, Firms, Schools and Societies (2008): "New York City is the perfect example of diversity functioning well. It's an exciting place that produces lots of innovation and creativity. It's not a coincidence that New York has so much energy and also so much diversity."
At UCT this diversity is exemplified by the fact that we have 232 Postdoctoral Fellows from 39 different countries registered.
Fourthly, as Jamil Salmi pointed out at a conference on World Class Universities in Shanghai on 2 November 2009, academics need freedom to be successful.
Therefore we need to ensure that universities have an enabling and responsive leadership that allows academic projects to flourish.
If our universities are to make their mark in the world, we need to remember that as we measure what our academics produce, we must also measure what we give them.
---
This work is licensed under a Creative Commons Attribution-NoDerivatives 4.0 International License.
Please view the republishing articles page for more information.
---