UCT researchers in the Faculty of Engineering & the Built Environment are using their knowledge and skills to benefit communities across South Africa and beyond.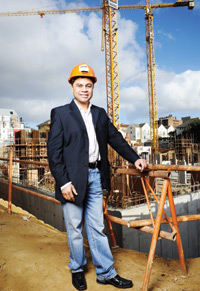 Dean of Engineering & the Built Environment Professor Francis Petersen says that with some creative thinking and high-impact research, health, service delivery and other problems can be solved.
The Faculty of Engineering & the Built Environment (EBE) has pioneered a programme to promote research and knowledge creation that will make a real difference to South Africa's poor and vulnerable communities.
Dubbed the Initiative for Public Good, the programme launched this year outlines bold plans for the Faculty to produce new research that will contribute to meeting the developmental needs of the country.
Speaking at the launch, Professor Francis Petersen (Dean of the Faculty) said that the initiative is responding to growing calls to put innovation to work for social good, alongside economic imperatives.
"This initiative is designed to coordinate and promote research activities within the faculty that can alleviate South Africa's myriad social challenges," said Petersen. "Our mandate as a university is to produce new knowledge, and I believe that UCT is very good at that.
"But to what extent do we as a university and as a faculty contribute to improving the quality of life of the poor in this country?" he asked.
There are already several research projects under way within the Faculty that go some way towards answering this question.
Chief among these is a project led by Associate Professor Ulrike Rivett of the Department of Civil Engineering. Her team has developed an innovative water-quality testing system that is being used in rural communities across the country. The project uses a simple water testing kit and a cellphone software package – developed by Rivett and her team – to enable ordinary community members to relay crucial information about water safety back to their municipal managers.
"One of the major challenges in developing countries is monitoring the quality of the water to prevent water-borne diseases – which cause some 1.8 million deaths annually, according to the World Health Organisation (WHO) – and to alert people to trouble spots," says Rivett.
"The use of the cellphone allows this information about a polluted water source to get to the appropriate decision-makers, so that something is actually done about it."
Another project, led by Professor Harro von Blottnitz of the Department of Chemical Engineering, is looking at informal township catering and its associated health hazards. Von Blottnitz's project is drawing on the resources and knowledge of several faculties and research groups to better understand these health risks and develop viable alternatives for the township catering sector.
"The informal catering sector sees mainly self-employed women cooking for the public, using methods that are damaging to their health and to that of their customers; the wood that they use to cook with is often treated with dangerous heavy metals," says Von Blottnitz.
And at a student level the UCT chapter of Engineers Without Borders (EWB)is putting their learning into practice with high-impact projects in Cape Town's impoverished communities.
"As students who are ourselves undergoing a process of development we believe it is important for us to contribute to the development and upliftment of others," says Gordon Inggs, EWB representative.
The group recently completed much-needed maintenance work at the Haven Night Shelter in Kensington, and is assisting the shelter in establishing a vegetable garden and wormery to provide it with a constant supply of rich compost.
To further extend its impact on society, the EBE Initiative will be partnering with the Development Bank of Southern Africa and other institutions to facilitate the implementation of research and innovation for development.
Professor Petersen said that many of the projects currently under way in the Faculty of Engineering & the Built Environment are perfect examples of how existing technologies can be adapted to meet real needs in a cost-effective and user-friendly way.
"With some creative thinking and research, many more such highimpact projects could surely be designed for issues relating to service delivery, health, environmental problems and more," he said. "There is growing awareness at university and government level that – given the South African context of high unemployment and widespread poverty – science, technology and innovation must be applied to the country's developmental agenda as well as to its economic imperatives," said Petersen.
"It is increasingly clear that Government cannot solve the pressing social issues we face on its own. It needs innovative and high-impact solutions – the kind that are applied to industry and commercial needs at universities every day.
"The challenge must therefore be issued to research bodies and tertiary institutions: apply your skills and knowledge to 'innovation for development' needs, alongside more traditional commercial needs."
---
This work is licensed under a Creative Commons Attribution-NoDerivatives 4.0 International License.
Please view the republishing articles page for more information.
---