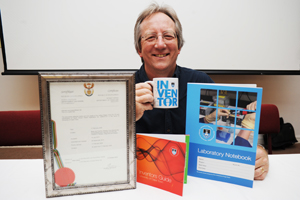 Learning Curve: Prof Ed Rybicki has 44 granted patents.
Patents are the currency of the information age and with the introduction of the new Intellectual Property Rights Act, researchers are being encouraged to protect their inventions ahead of publishing. The UCT patent portfolio is growing steadily, and 2010 will see returns from commercial success break the R2 million barrier for the first time.
UCT's Research Contracts & Intellectual Property Services (RCIPS) is a protective buffer standing between the inventor and the wild world of pending patents and property rights RCIPS evaluates all inventors' disclosures for commercial merit or social benefit, protects intellectual property and (in collaboration with inventors) licenses and markets the innovation.
The office has recently released three publications: Innovation at UCT 2010 is an overview of the university's record in this branch of research; the UCT Laboratory Notebook for researchers, which ensures compliance with the requirements for proof of invention and intellectual property rights; and the Inventors Guide, which details the step-by-step process inventors must follow in filing a patent
To recognise UCT's innovators, RCIPS held an Innovation Evening on 2 November, an event which also served as the launch for the three new publications.
"We need to acknowledge our inventors' output," explains RCIPS director Piet Barnard. "Currently there is little recognition for innovation activities, especially early on, but this is being looked at as part of the strategy on innovation that UCT is developing. The Patent Incentive Fund and rewards from potential royalty income tend to come in only much further down the track, and this is external rather than internal recognition."
Averaging 30 new invention disclosures per year (mostly from the health sciences, engineering and science faculties), UCT's research enterprise is active and healthy, says Barnard. The value of contracts approved by the office has risen sharply, from R337 million in 2006 to R543 million in 2009.
UCT's top inventor is the prolific Professor Ed Rybicki of the Department of Molecular and Cell Biology. A leading virologist and an international authority on creating vaccine candidates (including trial vaccines for HIV), Rybicki has 44 granted patents under his belt, some of which are starting to bear fruit. The commercialisation of his intellectual property has resulted in significant royalties.
Rybicki advises new inventors to prepare themselves for a serious learning curve. The new Inventors Guide will support that learning, though.
"Don't divulge things willy-nilly," Rybicki cautions. "Rather talk to RCIPS about whether something is protectable."
---
This work is licensed under a Creative Commons Attribution-NoDerivatives 4.0 International License.
Please view the republishing articles page for more information.
---