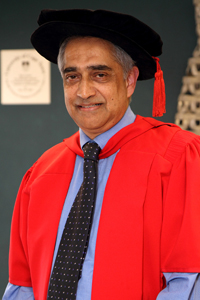 Spit and polish: Professor Anwar Mall's inaugural lecture extolled the essential value of mucus.
Slippery and sticky, but sweet and satisfying...
With such a description, it's obvious that Professor Anwar Mall is passionate about his subject - a passion he shared in his inaugural lecture, The Marvel of Mucus: Slippery, sticky substance so essential to life, on 20 October.
Mall's career-spanning interest began with a chance visit to UCT, when he met the then-head of medical biochemistry, Emeritus Professor Wieland Gevers.
"It was an unplanned visit to the medical school during a holiday in the '70s and a chance meeting with Prof Gevers, a rare combination of a gifted mind and a caring human being, which changed the course of my life."
This field of research was largely unexplored when Mall completed his master's thesis, titled Physical and Chemical Changes in Porcine Gastric Mucus in the Normal and Ulcerated States, under the mentorship of Gevers and Professor Rosemary Hickman.
"Prof Hickman, one of the most selfless human beings I have met; was kind, welcoming and patient, knowing all too well the difficulties of working with mucus, a very new research field in South Africa."
Mall remembers that while researching his PhD at the University of Newcastle-Upon- Tyne in the UK, there were no more than 25 mucus researchers in the world. Here, Mall completed his thesis, Gastro-duodenal Mucus Isolation and Structure, in the laboratory of Professor Adrian Allen, who formulated the first model of the mucin structure. This is the substance that gives mucus its slippery and sticky (and, to some, its sweet and satisfying) texture.
Mucin, a glycoprotein which comprises a mere one percent of mucus, is its strength, explains Mall. It's the magical ingredient that lends mucus the power to prevent your stomach from digesting itself.
"The hydrochloric acid that digests our food in our stomachs is so strong that it could burn a hole through your hand," says Mall. "But a constant coating of mucus on your stomach walls keeps the organ safe from its contents."
It's far more complex than that, of course. The mucus layer is thicker in some parts of the stomach to provide lubrication where needed, and it also works with dead cells to form a healing 'scab' over damaged tissue. In a sense, mucus is the body's Jack-of-all-trades, also protecting and lubricating many other organs such as the cervix and lungs.
Mall's enthusiasm extends to his teaching, where he is driven to inspire a sense of wonder in his students for everything around and within them.
"We are made up of atoms to form a consciousness - so how can we not be filled with wonder and awe at this life and existence?"
---
This work is licensed under a Creative Commons Attribution-NoDerivatives 4.0 International License.
Please view the republishing articles page for more information.
---